Sex after the club: how to seduce a girl in a nightclub.

To get acquainted in the nightclub is good and cool, because many people come there only for this. Beautiful girls, incendiary music, alcohol, quick contact – It is not surprising that many are not alone from there. And if you are not among them yet, today we will tell you what will help you seduce the girl in the club.
Dress cool
Depending on which night club you are in, the concept «Cool» It can be decently different – somewhere a rather neat shirt, and somewhere you need to be entirely from Gucci. Since this article is for beginners, today we will talk about ordinary youth clubs. And since we are talking about youth clubs, then approximately 50% of your success depends purely on the appearance and how you are dressed. Solarium, fashionable haircut, cool cologne and belt with a beautiful buckle add 10 points to you. And a charming smile – Another 15.
The smile should be not only on the face, but also inside – When you go to the club, then all the bad mood, self -doubt and life problems need to be left outside. They come here for emotions, so you must radiate these emotions. Be confident, relaxed and play! You can listen to music to tune in in the right way, but in no case do not drink in front of the entrance, Okay?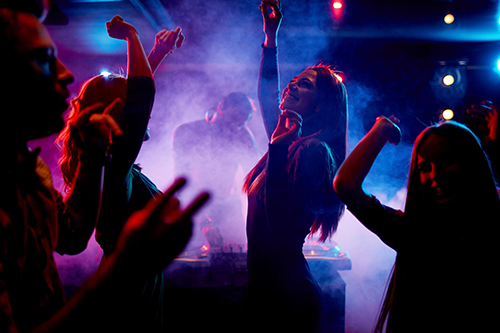 By the way, since we are a little distracted: many come to the club for the original purpose to seduce the girl and achieve sex. You need to get rid of such thoughts – They only interfere and spoil the whole mood. Your paramount task: enjoy and have fun. Therefore, they say that the club – Great place for dating, but only if you yourself feel comfortable in them, and this is your natural habitat.
Be a positive
Of course, there are many models of behavior in the club and to describe them all, you will need a whole book. But the simplest and most understandable tactics, which again is best suited for youth clubs – This is a bright incendiary guy. You probably heard about her: 1. You come with friends, 2. You head to the center of the dance floor, 3. You light up. The first time you do not pay attention to the girls at all, because you have come to have fun. Then you suddenly notice her, meet your eyes, exchange smiles – And now you are already dancing together, fast embrace, a sludge. If you feel interest, you can drag her to your table and start communication.
The topic is still working, but only if you really feel the drive on the dance floor and dance like God or at least took lessons, so your movements and plasticity are objectively better than the vast majority. If this is not, it is better to sit in a bar or at your table, meet with her eyes and give a sign, for example, wink and raise a glass for it. But in this situation, your Social Proof becomes much more important, for example, when you are on a short hand with everyone and exchange handshakes with DJs, photographers, bartenders, dancers, communicate with many girls at once or moving from one company to another. This is usually impressive of brand new girls.