Relations at a distance: how to save a sexual life.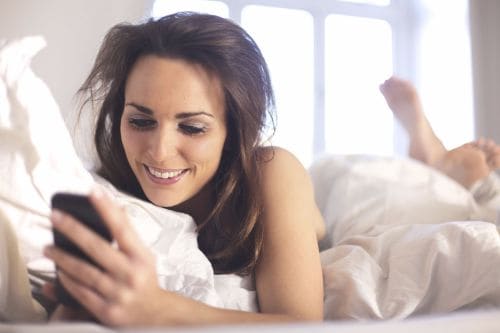 When you are in a relationship at a distance, this may not be perceived. You begin to count the days until the next meeting with a partner, but it is not known when it will be. Very often sex life is suspended until you see each other again.
But this is not necessary. There are several things that will help keep the sexual spark in relations at a distance and remain close, even being far from each other.
Intimate communication
Communication always plays an important role in relationships, especially when you cannot see every day or at least once a week. It is equally important to choose the right type of communication. In this case, of course, this refers to erotic forms, and more specifically – "dirty" or obscene conversations. You can do this in different ways.
Sexisting
Sending a small message to a partner can have a great effect if he has the correct content. Sexual correspondence will allow you to excite a partner without being present next to him. You are also guaranteed to be in the right mood, giving the imagination to decide what to write. Let the partner read how, in your opinion, he will caress you. Or how will you caress him. This will undoubtedly make the second half tremble from the desire in anticipation of the next date.
Sex by phone
You probably often talk a lot with each other on the phone. How about translating conversations to another level? Tell the partner how much you miss him, starting sex on the phone. This may seem even more erotic than sexting, since in this case you have the opportunity to hear how breathing changes during a conversation. You will immediately receive an immediate answer to what you say, and this can lead to even greater pleasure.
Various messengers
In them you can not only correspond and talk, but also send photos and video messages, for example, from the fitting room in the store where you buy a new set of sexual underwear. Or arrange video calls. You not only get the opportunity to hear the moans and sighs of each other, but also in the online mode to see what the partner is doing with himself when he thinks about you. This will undoubtedly help to strengthen trust in a couple and bring you both excellent discharge if you dare to succumb to temptation.
Advice. If you want to involve a partner in an erotic game (especially by video communication), you need to make sure that he is in the room, so that outsiders do not accidentally see a photo or video.At first it may seem a little embarrassing or funny. But over time it will become easier, and this method is definitely worth trying.
Sex toys managed through applications
There are several sex-tovars created for those who are not next to a partner. Of course, these are toys that can be controlled remotely at large distances using special applications.
How about surprising the girl in an old -fashioned way? Send a package with a sex toy, which you can control at a distance. Put a small seductive note inside, in which, for example, you write: "I look forward to meeting you. In the meantime, you can think about me using this … ".Then you will definitely make your girlfriend happy, excited and awaiting – and you will receive a reward next time you see each other. In other words – a win -win option for both!
Tips for him:
Use vibrating ring for the penis during masturbation, and let the partner control vibrations. If you turn the accessory with the vibrating part towards the scrotum, you will be stimulated by the testicles, creating an additional teasing sensation.
Prostate stimulant can also be used for masturbation. The partner will decide how quickly you will experience a wonderful and intensive orgasm received from prostate irritation. Speak at this moment on the phone, making it clear to the controlling that you are close to the finish. And then "return" her duty, connecting to the management of her toy.
Tips for her:
Use vibrator for point g, to satisfy yourself, and let your partner attach your hand to this without even being near. Through the application, he can decide how this will happen: softly and sensually or tightly and intensively? Maybe talk about this on the way home by phone?
Agree with a partner that on a certain day you use Vibrovaling in panties, And he takes control. And do this lover will be at his discretion, at any time during the day. Then the voltage will increase, and you will definitely like it when it first connects.