How is lesbian sex?.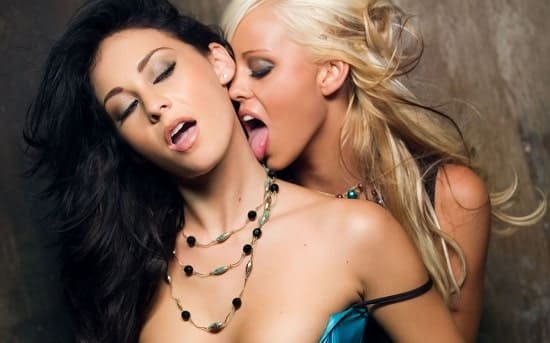 Many men and women are worried about the question: how is sex lesbian sex. And although on the network you can find many porn films and erotic videos on this topic, in life, of course, everything is different. And there are too many myths and secrets around such a relationship. Therefore, today we will talk about how sex lesbians actually happen, what toys and pose is loved by women, how this type of relationship differs from traditional sexual intercourse.
How lesbian sex differs from the traditional
In lesbian couples, as in traditional-a man-woman, there are relationships that last for months and years, as well as one-time contacts. Relations between same -sex partners also begin with flirting, courtship, flirting, and sex with prelude. There are practically no differences in this. But in the contacts themselves, in comparison with traditional sex, there are nuances:
Women understand each other better. This is due to a similar anatomical structure and the features of the psyche. That is why the prelude in lesbian steam often lasts much longer than in traditional ones, the actions of partners do not end after reaching an orgasm. And intimacy itself is not limited only to penetration (it may not contain it at all).
Maximum frankness. In lesbian couples, mostly partners are frank with each other. They are not afraid to tell about their feelings, ask to do somehow in a special way, show what exactly you like. Women with each other are often very liberated. Some lesbians say that they understand a partner without words. Of course, there is such an understanding and feeling of a partner in traditional pairs, but much less often.
A long duration of sex. Traditional sex men and women can last from a few minutes to an hour or more. But usually its duration is 10-30 minutes. In lesbian sex, everything is a little different. It is longer due to a long prelude and the ability to get many orgasms.
Compensation for the absence of a member. Women receive an orgasm not only with a penis, but by different types of caresses, including oral. Some couples do without toys, but for the most part, lesbians love games with high-quality dildos, vibrators and other devices.
There is no risk of getting pregnant from a partner. This is a very important point, since many women in traditional relationships cannot relax and enjoy only because of the fear of unwanted pregnancy. Of course, there are many ways of contraception, but they do not always remove fear. Moreover, the risk of acquiring diseases transmitted sexually, approximately the same in lesbian pairs as in traditional.
Diversity and creativity. In sex between girls there are much more creative ideas than in the traditional. Same-sex couples allow themselves to know themselves and the partner, go beyond the stereotypes and enjoy what really likes.
.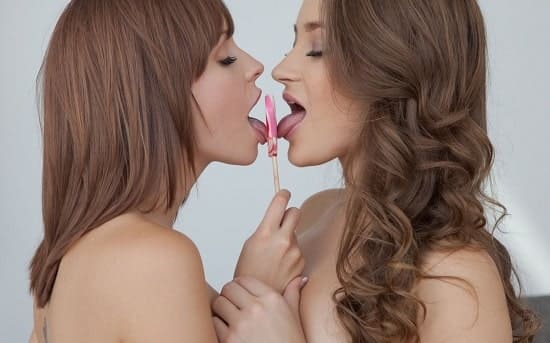 .
Also, some surveys in social networks indicate that in lesbian pairs women are less likely to imitate an orgasm, since this is not necessary. The partners understand each other, frank, and therefore they do not simulate the peak of pleasure. At the same time, oral caresses and stimulation of the clitoris, as well as other especially sensitive points on the body – the main attribute of a single -sex contact. So, a woman has a higher chance of testing an orgasm than in traditional sex, if a man does not pay special attention to this moment.
Sex lesbians without toys
There is a myth about lesbian pairs that without a dildo and other devices to give pleasure to a partner will not work. But this is not so. There are several options to enjoy the proximity, get bright orgasms, and experience the pleasure of each cell of your body:
Fingers caresses. It can be mutual masturbation or affection only one partner. Skillful fingers can significantly expand knowledge about their body and its capabilities. And the intimacy of such caresses will be painted with vivid sensations from orgasm.
Friction by genitals about the genital organs of a partner or any other parts of her body. Such caresses can become an excellent prelude, warm up and excite, but there may be a full -fledged proximity with many orgasms of both partners.
Partner's caresses with parallel masturbation. This option is also popular in traditional pairs, for example, when you want proximity, but there is no condom at hand.
Oral sex. Cunnilingus is able to give a lot of pleasant moments, and is performed in a variety of positions.
Fisting. This is a separate type of caresses that is not suitable for everyone. In lesbian pairs, both fisting vagina and anal are used.
In addition, some lesbian couples like Rimming (Anilingus) and other oral affection. It is also a pleasure for lovers. The area near the anus is very sensitive to touch, and affection with the language of genitals and skin near the anus can bring unforgettable bright pleasant sensations and end with a stormy orgasm.
Lesbian sex with toys
Of course, sex with toys is one of the important types of proximity in lesbian pairs. But not necessarily at the same time they will use only strapon. As statistics and surveys shows, lesbians love a variety of toys:
.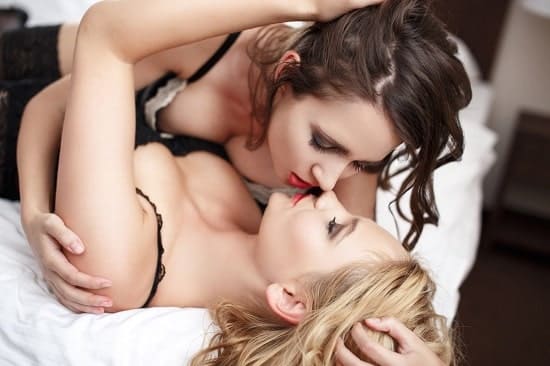 .
Falloimitators and strapons. They are popular with both models with a realistic design, and with original, not at all like a real male member. It is worth mentioning toys that have a double end, it is possible to use them at the same time, although this is not too convenient.
Vibrators. A variety of models from vibrations and vibroopol to realistic and giant toys are used. As in traditional pairs, it all depends on the personal preferences of the partner.
Anal toys. With and without vibration, small and large – all this is very popular with lesbians. Moreover, they can be used to enhance sensations during, for example, friction about the body of a partner, and in games with other devices. Some women love a feeling of fullness and receive orgasms from imitation of double penetration.
Masks on the eyes, clamps for nipples and other toys from BDSM-Tematics. Lovers of role -playing games and BDSM are both in traditional pairs and in lesbian.
Separately, it is worth noting toys with remote control, which today are gaining popularity. And although their cost is higher than that of ordinary ones, their functionality is much more interesting. They allow you to have virtual sex or caress each other at a distance: in a public place or when one of the partners is far away.
Favorite poses of lesbians
In fact, there are many poses for lesbian sex. And here are just popular from them:
Tablespoons. Both partners lie on their side, one of them hugs the other. The position opens access to the whole body, allows you to see and touch everything, does not limit the movement. Suitable for the use of strapon and other toys.
Scissors. The girl sits on the ass, bending one leg and stretching the other. At the same time, her partner is faced with her face in the same position. Both are based on balance on hand. In this position, it is great to have sex with a double phalloimitator. It is also suitable for caresses without toys – clits come into contact with each other, giving both bright sensations at the slightest movement.
69. Traditional pose when both partners can caress each other's genitals language.
Lying on the stomach. One of the girls lies on his stomach, completely relaxing and spreading her legs to the sides. The other stands above her knees and caresses the genitals with his hand. Moreover, one finger can be immersed in the anus, and the rest caress the clitoris and labia.
Missionary position. She looks like in traditional sex – one partner lies on his back, spreading her bent legs, and the other stands on his knees and caresses another. Implemented with a strapon or dildo, sometimes vibrators are used.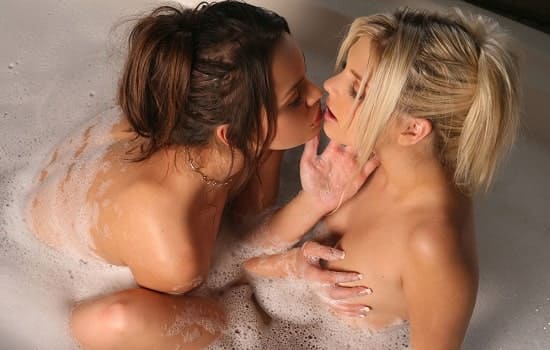 Myths about lesbian sex
Thanks to a huge number of porno -clips on the Internet, as well as the interests of men and women in lesbian sex, this type of relationship has grown with numerous myths. And here are just a few of the most common of them:
Lesbians always play a certain role. It is generally accepted that in the same -sex pair there is always a girl more similar to a man and the one who plays the role of a woman. But this is not so. Rather, in some pairs there is such a phenomenon, but most often women do not choose a specific role for themselves, but enjoy how relationships develop and what emotions they experience. They can change positions, adapt to each other.
Lesbians differ from naturallers externally. Some imagine lesbians as girls with a short haircut, tattoos and piercing in a variety of places. But those who have such an orientation of women often look usually.
In sex, the main thing is penetration and frictions, which means that sex in lesbians is always accompanied by the use of phalluses and strapons. Of course, such toys are used. Moreover, both in same -sex and in traditional pairs. But still they do not play the dominant role. Sometimes lesbian sex passes without using something that compensates for the lack of penis, and girls get pleasure from oral affection, touches, proximity of bodies, emotional experiences.
Lesbians become because in the life of a woman there was no suitable man who would satisfy her. In the XXI century, this statement is somewhat similar to the myth "Flat Earth", and therefore we will not explain its absurdity for a long time. Lesbian has such preferences in sex due to the fact that her mental, genetic, physical and other individual characteristics contribute to this.
To be lesbian – immoral, it does not correspond to nature. In fact, many different cases of homosexual contacts in nature among animals are recorded. Therefore, to say that same -sex love does not meet the norm – somehow strange.
If there is no risk to get pregnant, then there is no need to protect yourself. But it is necessary to protect yourself with any sexual contacts even with a woman, at least with a man. You also need to be treated with special care to the use of toys: you need to correctly clean them and store them. It is important to remember that any sex toy is an object designed for individual use. And if there is a need to please the partner with a device that has been purchased for himself, latex napkins or condoms are used.
There are many myths about lesbian sex, rare of them are true. The same-sex relationships in the world still seem to be something exotic. But in many countries they are recognized as law, two women can even marry.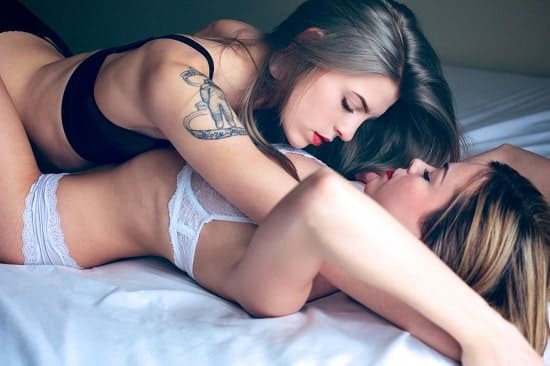 Questions about lesbian sex
Of course, the issue of contraception and protection against diseases transmitted sexually should be decided individually. If it is impossible to get pregnant from lesbian sex with a lesbian, then only well -chosen protection can insure you from the transfer of diseases. In a pair where you are true to each other and undergo a regular check for the presence of diseases, you can not use special means. But it is worth remembering that not always the best partner honestly tells that he still has someone. And in all other cases, as well as in contact with the new partner, it is recommended to always use latex napkins and other protection methods. It is also important to monitor the correct cleansing of toys, as they can also become a way of transmitting infection.The very first thing to do is to forget about porn. In such videos, everything looks realistic, but is completely different from reality. If you decide to test lesbian sex, meet a lesbian. This can be done in a cafe, on the street, on the Internet and in other places. After acquaintance, everything, as in traditional pairs, is communication, common interests or just a desire for sex. Of course, it is better to frankly talk with a partner about all your experiences, not afraid to look stupid. Well, an important point – you need to prepare for sex in advance. Take care of the beautiful manicure and pedicure, intimate haircut and purity of your body. Buy a toy if you plan to use it. Do not forget about protection – get latex napkins.With regard to orientation, everything is not as clear as you described. What you like sex with a woman does not mean that you are a lesbian. You can love contacts with men and women. And in this case you can talk about your bisexuality. If we talk about what to do with it – nothing. You must accept yourself as you are, enjoy life and proximity to your loved one, regardless of his gender. The main thing is not to panic. And do not try to immediately take yourself to lesbians or to any other group. You have time to figure out everything and understand which floor you are closer and what you want from life.