TOP-7 sets of sex toys.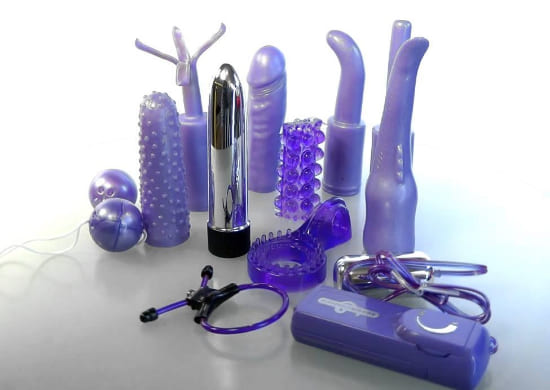 When buying a new sex toy, first of all, you need to decide on its purpose. Anal or vaginal, long or short, as well as with or without vibration. A rather difficult choice, given that you want to try everything at once. It remains to buy one sex toy, postponing the acquisition of another for the next time, or spend a few stimulants. But you can do easier and choose a set that will include several types of desired devices.
Advantages when buying a set of sex toys:
Time saving In search of suitable stimulants.
Sex toys in a set often turn out cheaper, than when buying them separately.
One set stimulants made in the same style, What brings aesthetic pleasure.
Set of sex toys will be a worthy gift their sexual partners or close friends.
Many manufacturers of intimate goods offer such sets with stimulants, it remains only to choose the right.
To facilitate the search, we collected 7 sets with different sets of sex toys.
Set of Orion "The Insider Set Deluxe Couple Kit"

This kit will help to realize the hidden desires and achieve incredible, bright orgasms. Sex toys from it is suitable for both man and woman. All components are made of safe materials – silicone and ABS plastic.
A set of 10 items made in bright blue includes:
Flexible anal chain from silicone with embossed links. Balls of different sizes have a diameter from 0.4 to 2.3 cm, and at the end of the bead handle in the form of a ring for convenience.
Little vibration massager with 4 interchangeable nozzles with different embossed surface. They can stimulate different erogenous zones in yourself or partner. The device operates in 10 vibration modes, which are controlled by one button on the case. Power comes from 1 battery type AA (not included).
Silicone pumps for nipples in the amount of 2 pieces. Nipples stimulation are very exciting both partners.
3 anal traffic jams of different shapes and sizes (8.5 cm, 10 cm and 11.5 cm). Each stimulant on the basis has a limiter that does not allow it to immerse it too deep into the body, which will allow you to relax and enjoy it.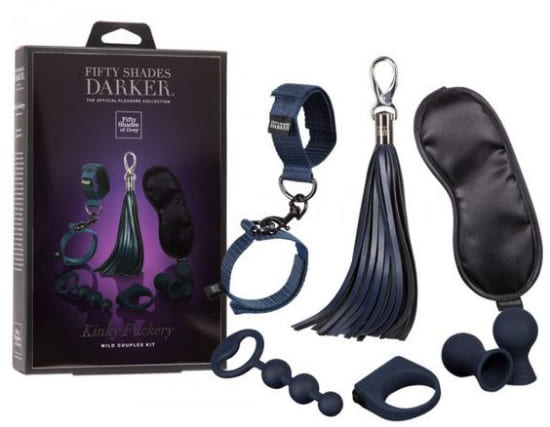 Darker Kinky Fuckey Kinky Coupeles Kit Games
Stylish set for steam will agitate imagination and add passions to the relationship.
The entire FIFTY Shades of Grey series is completed in the style of the sensational bestseller "50 shades of grey" and allows you to feel like the heroes of the film in their bedroom. All toys from this kit are made of harmless materials.
This set includes:
Bracelets for her wrists on Velcro. Between themselves, they are fastened with a carbine, which at any convenient moment can be unfastened, giving freedom to the partner.
Dense, non -transmitting light. The inner surface is covered with velvety fabric, pleasant to the touch. The bandage itself is held on the head with an elastic band.
Mini-Flogger For erotic games.
Anal beads From a medical silicone. Flexible hitch and ring on the basis of make their use comfortable.
Erection ring with vibration. It is easy to wash a penis for a penis, just taking a vibro -foam from a special nest.
Power comes from 3 LR41 batteries (included).
2 silicone pumps for nipples.
A set of anal toys Rebel AnaLTOYSET "Play Kit"
The male kit includes Everything you need for pleasure. Despite the fact that all toys are without vibration, they are able to deliver pleasure. Stylish anal stimulants are made of hypoallergenic medical silicone that does not absorb odors.
Brutal design in black gives a special highlight. The set includes:
Anal sleeve on the suction cup, which allows to fix the stimulator on any smooth surface. The relief in the form of a spiral along the entire length of the barrel will perform sensory massage.
Anal plug with a limiter and tail.
2 flexible erection rings. They will extend pleasure, holding back ejaculation.
Anal sleeve with two balls and an erective ring. They are interconnected by a flexible jumper. During frictions, the tip of the stimulant affects the prostate, and the ring restrains the climax, prolonging sexual intercourse.
Set Baile Love Kits
This set Created for women, But a man can also use some toys freely. All stimulants are made of PVC – hypoallergenic and non -toxic material. Each toy can be used separately or combine their action, enjoying the result.
3 stimulants operating from one vibropulo includes. As part of the set:
Vaginal balls To strengthen the muscles of the pelvis. For convenient extraction at the end there is a loop.
Anal Christmas tree, Smooth and flexible. Each link, starting with a small one at the end, has a bulge on one side for additional stimulation. Based on a sex toy, a safe immersion restriction beam and a comfortable handle in the form of a loop.
Vibropul with a remote control panel. Works at 7 vibration speeds. Power comes from batteries like aa.
Anatomical anatomical stimulator, which stimulates the anus, gradually relaxing the muscles. Well suited for preparation for penetration and for preludes. There is a special nest for vibrationpli.
Small pink phalloimitator only 10 cm in length. The stimulator is soft, with a pronounced scrotum and head. Suitable for vaginal and anal use. You can also insert a vibro -foam into the base by adding additional stimulation.
Phallos Realist with Proskoy based. Thanks to her, the toy can be mounted on a smooth surface. A pronounced relief in the form of veins and a clearly marked head make this stimulant very similar to a real penis. The base is the same as in both other phallus, there is an opportunity to insert a vibro -foist.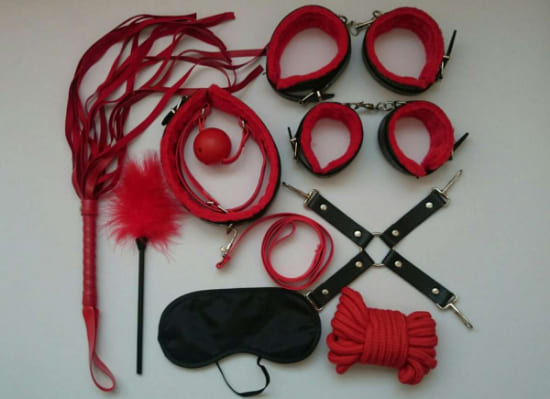 Set Ultimate bondage kit
A large collection for those who want to experiment in bed and try a new facet of excitement. The kit includes all the necessary minimum for the fetish. The collection includes:
Handcuffs for fixing with 2 keys.
Anal sleeve With a limiter for safe use. The stimulator has a pointed tip and a smooth surface, which facilitates its introduction.
Wax candle For sweet exciting torture in the contrast of sensations.
Vaginal balls On the coupling. Their use strengthens the intimate muscles and increase libido. For convenient extraction, they are equipped with a loop. Balls can also be used for exciting prelude.
Mini-vibrator with 5 interchangeable nozzles. Each has its own relief. The stimulator works in 3 vibration speeds from AA type batteries.
Binding ribbons.
Gag on the strap for complete immersion in the role.
Dense bandage, non -transmitting light.
Clamps on the nipples with a connecting chain. During sexual games, you can slightly delay it, thereby stimulating the chest and increasing the excitement.
Fig with a pen For intimate caresses.
Play.
SMILE CRAZY Collection set
Included for a couple everything that is needed for a passionate evening is included. Stimulants are made in pale lilac color.
The set includes:
Elastic Erective ring for a silicone penis. It will restrain ejaculation, prolonging sexual intercourse.
Anal chain On a solid hitch. Links in the amount of 5 pieces have a diameter from 1.5 cm to 3.1 cm. On the basis of convenient extraction is a handle in the form of a hook.
Anal plug on suction cups, this allows you to fix it on any smooth surface. The tip of the stimulant is narrowed, which facilitates the introduction.
Penis with relief. The texture on the stimulant is available both from the outside and from the internal.
Vaginal balls On the coupling. At the end there is a loop for convenient extraction.
Vibrator operating in 7 speeds. The modes are switched by pressing the button directly on the case. Based on the toy, the surface is slightly embossed, for a stronger stimulation of erogenous zones at the entrance to the vagina.
Anatomical vibroyaite with a remote control panel. A stimulant can be used on any erogenous zone in both partners.
Set HIS Ultimate Sta-Hard Kit
This male set is suitable for both solo and stimulation during sex. Stylish design and laconic coloring stimulants will cause aesthetic pleasure when used, and a thoughtful anatomical form to give pleasure to the body. The set includes:
Vacuum pump for penis. It can be used before sexual intercourse to enhance an erection. With constant use, it is possible to increase the penis in an erect state.
Anal plug anatomical form to stimulate prostate. The narrowed tip easily penetrates the anus, and the limiter will not allow the stimulant to enter too deep.
2 erection rings, with a diameter of 3.5 cm and 4.5 cm. Their use will extend pleasure by delaying ejaculation.
Masturbator In the form of a vagina. Inside the stimulant, the ribbed relief that will massage the penis in every movement, and a narrow hole that imitates the entrance to the vagina will enhance.
Powerful vibropulus With a remote control panel diversifies erotic games.
In addition Set with sex toys, intended for influence on different zones, sometimes manufacturers offer stimulant sets for the same type of use, but with different texture, for example, like set of masturbators EGG-II, in which 6 masturbators from Tenga with a different internal relief, or set of erection rings and nozzles of Emilio Armori Cockring Coll.
Such collections allow you to try several options if, when choosing a sex toys of this type, there was a difficult choice.
When buying stimulants in the set, you should dwell on the options when you are sure that you will use it with all the toys or at least for the most part.