Sex pose 70 – "Tachaka on wheels".
Pose 70 It bears the rustic name "Tachananka on wheels", but this cannot be said towards the technique.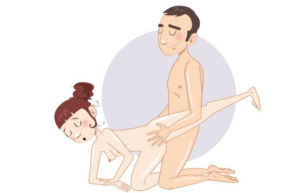 Pose 70 porn – hold it stronger!
A similar position has already been described and it was called "Tachanka", however, this option of execution greatly simplifies sexual intercourse and does not so require partners of good physical training. It is enough for the girl to have a sense of balance, and the man is a strong rear and supported her during frictions.
To perform a pose 70 in sex, a woman becomes on all fours, resting her knees and elbows on the floor or bed. The man becomes her knees behind her and penetrates the vagina. Also, a woman pulls her leg back, and a man helps her to stand her in the air. The man holds her hips and begins to move, setting the pace and speed. A fairly long execution of this position of the Kama Sutra can be too exhausting for a partner, so it is worth changing it after a while. However, despite such a difficulty, Kamasutra Pose is 70 It will be a great way to bring a variety to your sex life. The main thing is to remember that you should not be zealous here.