Porn pose 67 – "Kayak".
Sex Pose 67 Kama Sutra bears a simple and uncomplicated name "Kayak". Despite this, she can bring a lot of pleasure for both partners during intercourse.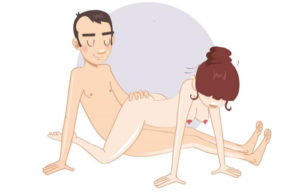 Kamasutra Pose 67 – Woman for the main
To perform sex pose, a 67 man can sit on the floor or on the bed, stretching his legs. He holds all his weight with his hands that rest against the hard surface. The woman in this pose of the Kama Sutras sits on him with her back to her face, rests her knees into bed and holds her hands. In parallel with this, she sits on a member of her partner, the vagina penetrates.
The whole initiative and further rhythm of sexual intercourse is in the hands of a woman. She sets the pace and chooses the depth of penetration of the penis. Men's hands at this time are free, so he is free to do what he wants. He can help his partner keep his balance, grabbing her hips or caress her buttocks. Porn pose 67 does not require special physical activity, therefore it is suitable for all people with different complexion. It can be used often and between more complex postures.