"Sitting on Naesty" – 59 pose in Kamasutra.
The pose is 59 Kama Sutra It has a very tempting name – "sitting on a nest". From this it becomes clear that sexual intercourse will be in a sitting position, but we will describe this position below in more detail.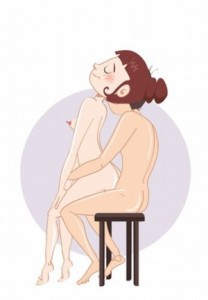 Kamasutra Pose 59 – in a sitting position
To perform a pose 59 in sex, a man should sit on a chair, and a woman on top of him. During this, he penetrates inside her vagina, and the woman rests her feet on the floor. In this performance, the Kama Sutra Pose 59 The Woman plays a leading role, moving up and down, she sets the pace. At the same time, women's hands are free, so she can stimulate her clitoris or breast. The man just continues to enjoy and holds the body of his partner with his own hands. For greater convenience, a woman can lean back, then it will be convenient for both of them to continue to have sex using 59 pose in Kamasutra.
Pose 59 in sex ideal for long -term sexual intercourse, as well as for frequent use. It does not require special physical training and is comfortable for both partners. It remains to just relax and retire with his beloved second half.