34 pose in sex – "Magic Mountain".
Kamasutra Pose 34 called "Magic Mountain". For its execution, you will need a certain hill, preferably soft, about a little above the knees.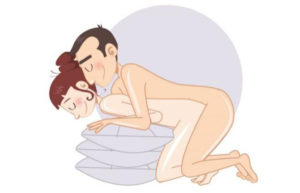 The pose is the magic mountain – soft pleasure
For execution 34 pose in sex You can use pillows, first to build a small tower from them, the height of which will be slightly above the knee. As a check of comfort of such a height, the girl should kneel and put her hands on the blankets. Her body should form a right angle, and her hands should not be pulled up.If the height is suitable, then the woman remains in this pose, and the man becomes behind her. Next, the penetration of the penis into the vagina of the partner occurs.
IN Pose Magic Mountain A man fully controls the woman and the rhythm of his movements. Also, 34 pose in sex is convenient for anal. A man can lie down on a woman's back to enhance penetration and sensation. In addition, his hands are free, so he can caress the chest and hips of his partner, kiss her neck and back. In this case, a woman has restrictions in actions, so she can simply relax and enjoy such a close contact with a man, feel herself in his power and strong arms. Differences Pose 34 From other varieties of Doggi-Stayla poses, that a woman does not need to bend her back, straining her lower back. The sensations from the friction pose, the magic mountain also vary, since the pillows will be a kind of shock absorber, providing soft rhythm and smooth entry of the penis into the vagina.
If you feel the strength in order to experiment, we recommend that you try the sex of 12, in which a sense of balance will come in handy, and the partner will come in handy.