The secrets of the Indian Kama Sutra.
It is known that almost all stories, works, paintings, songs are devoted to love. Without love, a person cannot be full -fledged, it is love that distinguishes people from unreasonable creatures. To date, there is one great book that describes love in actions as accurately as possible. Kamasutra Sex is an ancient Indian love book.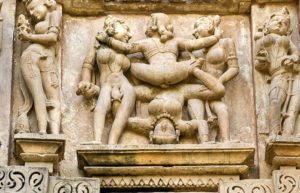 Today, society is almost not embarrassed to openly talk about its feelings, including sexual intercourse. And in ancient times, many peoples were taboo, but the Indians were not ashamed of the naturalness of sexual intercourse. The Indian Kamasutra talks in detail about intimate relationships between different floors and representatives of the same sex. However, contrary to common opinion, the Indian encyclopedia of love tells not only sex, it raises a lot of important issues for humanity: how to lead an honest life, be a responsible citizen and family man.
Kama Sutra lessons
So, Indian Kama Sutra It consists of seven subsections, and those that are dedicated to the intimate side of life affect the following topics:
In the entry of Kama Sutras, there are 5 chapters, which include discussion of issues about erotica and romanticism. So, the author of the book clearly means that people differ from unreasonable creatures in that they are engaged in sexual intercourse not only for continuing offspring, but also for both physical and moral pleasure. So, a person cannot sleep with another person if he is unpleasant for him, for example, by external signs.
Basically, the second section of the Indian Kama Sutra, consisting of 15 chapters, describes varieties of sexual intercourse. Here you will find a description of sexual pleasures. In this section, you will see a description of certain techniques of sex, petting, blowjob, cunnilingus and other classes that can give pleasure to your sexual partner. In addition, this Indian book represents separate pictures to all poses (however, the illustrations were attached much later than the first release of the book in light), which clearly show how you should perform this or another pose.
The third section – Kama Sutra lessons – was written exclusively for men, since it is dedicated to the topic of delivery of sexual satisfaction for a woman. Here a man can understand how he needs to care for a woman, how to build a relationship with her and bow her to family life. In addition, there is information about how to remain welcome for your second half even after 10 years of marriage.
The fourth section is devoted to the delivery of sexual satisfaction to the man. As you understand, this part is already for women. Here it is said about how to behave a married woman – to appeal to her husband, to remain faithful, to show wisdom.
Thus, about what Kamasutra? Indian Kama Sutra Book is primarily about the psychology of relations between a man and a woman.