How to shave an intimate zone without irritation?.
Each girl thinks about how to shave an intimate area, because this is one of the important elements of caring for herself. But also at present, more and more men want to look neat below the waist, so our tips will be universal for both sexes (an amendment to the labia, scrotum or individual anatomical features will make in the process of execution of recommendations). The correct approach will ensure comfort, smoothness of the skin and lack of irritation. Compliance with general recommendations for shaving will help maintain attractiveness in any situation.
Preparation for hair removal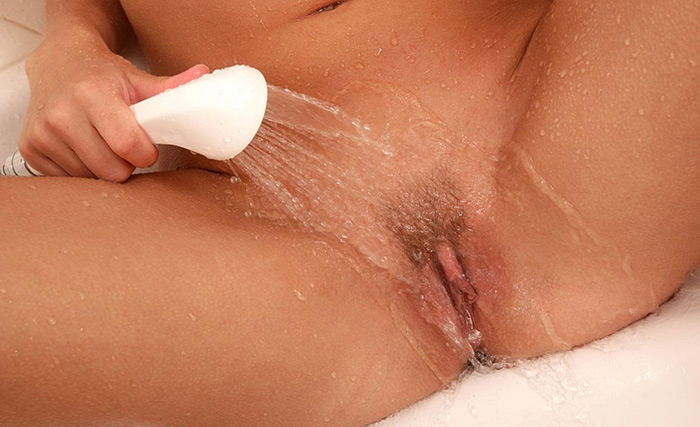 Shaving procedure requires appropriate preparation. Necessary:
Pre -cut your hair on the pubis. Razids are made to combat short bristles, and on long hair they quickly dull. Therefore, first you need to cut off with small scissors or a haircut machine.
Take a hot shower or bathroom. This will facilitate shaving gross hairs. If there is no time for this, it is enough to cover the intimate part of the body with a hot towel for several minutes – the effect will be the same.
Soap. To do this, use foam or gel for shaving. Even a man can use the female remedy. Such foam is softer, helps to avoid irritation.
These measures will be enough to make the procedure a simpler and more comfortable.
Step -by -step instructions on how to shave an intimate area to a man and a woman
Shaving intimate places both in guys and girls, consists of several stages. In addition to preparation, you should choose the right tool.
The choice of razor
There are a lot of options for combating hair. At home, electric shoes or trimmers are often used. But they do not help completely remove the hairs, and the bristles remain, up to a millimeter long. Such devices allow you to get rid of vegetation without discomfort, risk of cuts and irritation.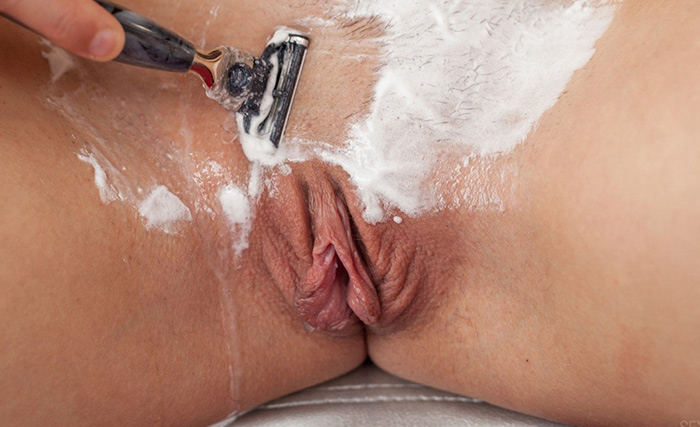 In addition, they use a razor. It should be of high quality. There are special women's machines with a special strip to moisturize the skin. There are products for single and multiple use. Most of them are well suited to eliminate vegetation on the legs, but not for the intimate area. Therefore, it is better to purchase a men's razor. It has more sharp blades, which will simplify the procedure.
Machines with several blades and helium gaskets on both sides, providing head sliding are preferable. In order not to buy one razor too often, one should allocate one specifically for
care for the intimate area and rinse thoroughly after application. It is also important to dry thoroughly so that the blades do not suffer from corrosion.
In what direction to shave?
Before shaving a pussy or an area around a shit with a machine, you need to find out the basic rules of the procedure. They will help make the skin as smooth as possible. To facilitate the task, you should start from the navel. It is necessary to pull the skin above the hair growth line and move in the machine in any direction.
You can arrange a hairstyle of an intimate zone in different ways. Some shave everything, while others leave a small area or make more complex drawings.
Shaving the area between the buttocks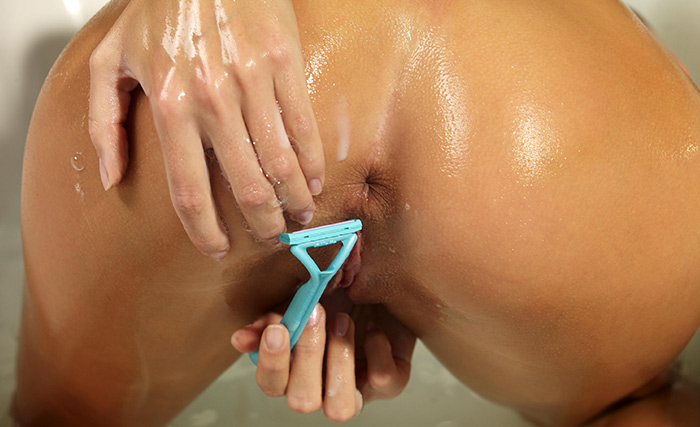 While caring for the bikini zone, do not forget about the area between the buttocks. To eliminate vegetation in this area, it is necessary:
Passing through all areas several times in different directions to make sure that the hairs are absent;
The machine must be processed between the buttocks, slightly pushing them through with one hand;
once again check if the hairs are left.
Each person should remember that in the complete absence of pubic hair, the risk of infection with sexually transmitted infections increases (concerns especially female). The probability of their spread, especially the human papilloma virus and contagious mollusk, also increases.
Cleaning for yourself
Do not forget about the rules of cleaning. This will avoid awkward moments and will become a manifestation of respect for others. It is necessary to clean the drain after each procedure.
The easiest way to cut vegetation in the intimate zone over the toilet, and shaving in the shower, this will greatly facilitate cleaning. After completing the hygienic procedure, you should pay attention to the state of the drain, floor, towels and razors. There should not be traces of them.
How to avoid irritation
The question of how to shave an intimate zone without irritation, primarily excites girls. This can be avoided by governing body. It is important not only to thoroughly steam the skin, but also process with special products that provide nutrition and moisturizing the skin.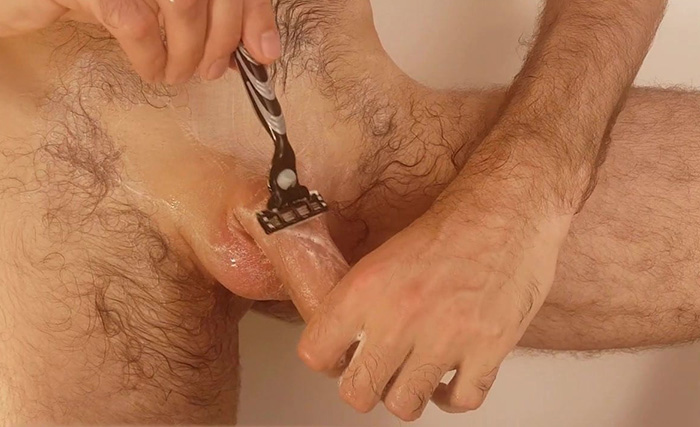 After removing the vegetation, you should not immediately put on linen. Better to give the skin a little breathe. In 10-15 minutes it will receive a sufficient amount of oxygen. After that, you can put on panties from cotton fabric. Synthetic materials will not be the best choice, since they do not give the skin enough air.
Do not use mint and menthol products for caring for a bikini zone.
How to avoid cuts and infections?
In order not to injure yourself during shaving, you need to do everything slowly. But accuracy sometimes does not save from injuries. Micro -cutter is enough to get an infection into the blood. Therefore, an important condition for maintaining health is the use of only personal razor, and not your partner for sex
. Even with confidence in the purity of the owner of the machine, he can still transfer some kind of virus, not knowing about it.
Replacing blades on a razor should be carried out as often as possible, as well as periodically disinfect the tool. It is important that the hands are clean. If itching and redness appear, do not comb them to avoid infection of the body. It will be correct to use lotions and balms to calm the skin. It is important that the razor is stored not in the bathroom, but in a dry place, so that the blades are not covered with a fungus.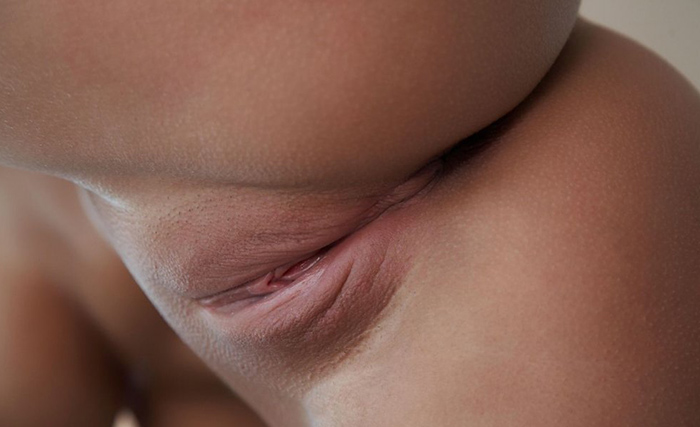 Egg oil is suitable for the prevention of infections. It contains bio-active substances that prevent inflammatory processes. They accelerate the restoration of the skin. The method of using the product is simple: you need to rub the egg oil into a shaved area. It is better to carry out the procedure twice a day, leaving the bath until the next reception. It is not necessary to rinse it, it will provide excellent skin nutrition.
What to do with ingrown hairs?
Growing up for several reasons. This happens more often if during shaving the hair is very stretched. After reduction, it begins to grow under the skin. It also happens if the tip of the hair has been sharpened after shaving.
Problems also arise with a plentiful amount of dead particles around, this provokes growth in the wrong direction.
Men and women who have curly and curly hair are faced with growing up. This helps to prevent the skin not only with the use of water, but also with the help of special means.
Be sure to carefully exfoliate dead skin cells. You can use scrubs with salicylic acid in the composition. If irritation occurs from it, it is better to use a simple washcloth.
It is important to find out how to shave the groin in order to avoid rashes, cuts, infection. To do this, it is not necessary to visit the salon, everything can be done in the home environment. Shaving a machine with several blades and a gel layer. Before the procedure, it is advisable to cut long hair, and steam the skin and moisturize. A good effect is provided by scrubs, gels and shaving creams. It is important to act carefully to avoid wounds and micro -cuts. Compliance with the rules will reduce the risk of infection and inflammation.