Erotic board games.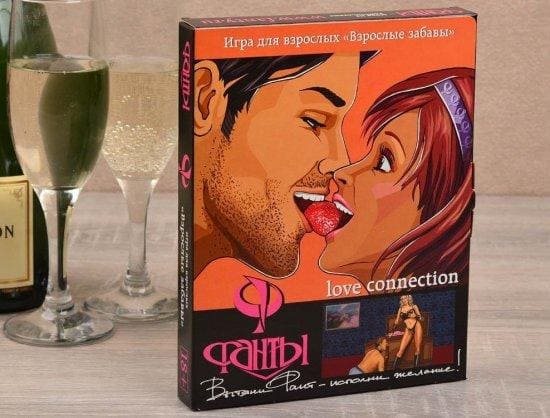 You can have fun and play not only in childhood. Games help improve mood, have a great time in the company, develop logic, fantasy, attentiveness, and board games make up for a shortage of real communication with friends and colleagues. The game method is the most delicate and effective in order to Light, relieve tension, make a man. Therefore, adult games are no less popular than children's! We will put aside the mafia, monopoly, desktop hockey and other fun games – Let's talk about erotic games.
Board games are an easy way to transmit information and experience. In order not to re -read a bunch of literature and not waste time searching on the Internet, they will help to learn the information and teach different tricks in an easy game form.
In erotic games, everything has already been invented for you, do not strain your imagination and come up with something yourself.
If you are a adherent of banal dates – candlelight dinner, cinema, then most likely the idea with erotic games will not appeal.
And here those who love dates with "highlight" or "pepper", It will even be very interesting to plunge into this amazingly diverse, exciting, sensual world.
Games for two
What games can be purchased today?
The simplest ones are undressing games, suitable for both a fun company and a couple, just starting love relationships (various card games, darts for undressing).
If the idea is gradually undressing, it seems boring, but I want get closer to a partner without languid sighs and awkward silence, or Diversify family life, Or maybe excite the whole company, fantas-flirt will come to the rescue.
This is a series of games, different in the degree of frankness, designed both for a couple and for a fun party.
Fanta-flirt facilitate acquaintance and process of rapprochement With the person you like, with whom, who knows, you may meet together the next morning.
Fands played at the court of Empress Catherine. Various tasks were recorded on paper, fell into a hat, which was launched in a circle. Noble ladies and gentlemen pulled out a random fant. The tasks were not complicated – teasers, pantomime, funny dance, answer to a piquant question. Erotic subtext This game acquired thanks to the wit of a hussar, their cheerful disposition and rampant passion for ladies.
To facilitate your choice, we will make a small overview of this series of games:
The most innocent version of this game – "Coffee-brack". Suitable if you just met and you have the first date. On the cards, funny tasks with a slight erotic tint, and in just 45-60 minutes you can learn about the possible sexual partner oh how many interesting things. You will not have to undress, perhaps only the cheeks will be slightly gruel.
Not the first time meeting, dreaming of loved love relationships, take with you on a date-flirt "Hanky ​​panky" or "Tete-a-tet". Starting the game, you will understand how easily and at ease you can invite a partner to bed. And now you are already under one blanket ..
It's time to change playful conversations to tactile sensations – we proceed to decisive action. "Bed intrigue" – This is what you need. This game suitable for family couples, In sexual relations in which boredom and everyday life crept together.
Four colors of cards are different levels of complexity and frankness.
The game will begin with light exciting tasks, smoothly goes into preliminary affection, and maybe into a role -playing game, and will end with acquaintance with new poses, new vivid sexual impressions. In this treasured box you will also find recommendations for the use of accessories for sex, because it is better for the props for the game, after all, to purchase-the time spent and more interesting will be more interesting and more interesting.
At least you will need Erotic linen For a lady, Massage Oil, lubricant.
Another interesting game from the Fanta Flirt series- "Acrobatics in bed". This game will delight those who love oral affection, wants to try anal sex, He is fond of sex toys. And again, experiments with different postures, their combinations, well, a sea of new sensations.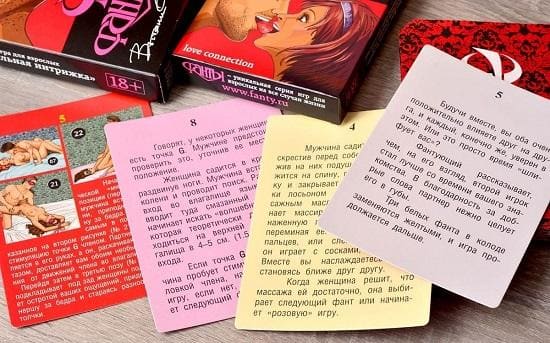 Want to agitate your love relationships well or add sharpness to fresh, family, home sex – feel free to get a series of Fant "Magic of desires". This series includes fantas-flirt:
"Absinthe". With this game, you are not only You will experience a thrill From the new poses, but with a partner you will select a sex toys, try anal stimulation.
High -quality sex is one of the greatest pleasures in our life. You try exotic fruits, new dishes and recipes, you can not eat bread all the time and drink it with water. Let yourself in sex a little more, and get one hundred percent The pleasure is stronger, than from pies with strawberries!
"Love marathon". The name speaks for itself. Get ready to try an incredible number of new poses and their combinations. Draw ideas for role -playing games.
"Hot experiments". This game will teach you a lot. Experiments with each other and sex toys will bring a lot of new sensations and open a new world without constraint, borders and rules. Even such fantasies as "Group rape" And "Threesome sex" will become a reality! If you decide to get to the end, in addition to lubricants, massage oils, you will need Sex toys different calibers, or Sex dolls.
"Adult fun". We have already expanded the borders, liberated, it's time to indulge in real debauchery! What is not there – both cruel sex, and BDSM theme, exbisionism, swingers, a man will be able to be in the role of a woman and vice versa. For this game, you will need to seriously replenish the arsenal of sex toys and accessories, but it's worth it!
If you are a fan of tantric sex, cunnilingus, and generally love everything eastern – game "Karamel paradise" for you! But don't think you'll get off only oral affection – the game to complete penetration, and anal, including. May a sensual paradise come in your bed!
In fact, a huge quantity: "A holiday romance", "Sweet couple", "Pepper", "Bomb from boredom" and others.
If you decide to play erotic board games, you will certainly find for yourself those that will become the indispensable companions of your sexual life in any situation.
Other games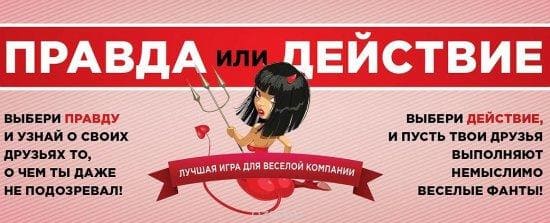 In addition to such diverse Fant, there are other erotic games.
Cuban cubes. The principle is very simple – throw playing cubes and get a pose for making love.
Entertaining game "True or action". Pull the map and complete the task – either frankly answer the question or actively act with your lips, arms, ass and other parts of the body.
Want to extend the honeymoon, make romance and eroticism in your relationship? For you, too, there is a game that you just play for almost a month and you will be – "For you". At the beginning of the game, partners exchange envelopes with tasks, these tasks are a surprise and a strict secret for each other. In the course of the game you will remember that Sex in your relationship not just eat, but takes most of the time and life.
Games for the company
And what do you tell you to play a game with erotic subtext in the company of friends or colleagues? Why not! If you are young, good and terribly sexy, then the lotto and cards can be left at home, and bring a bottle of wine and a desktop erotic game to rampant fun with friends.
Let's start with the same Fant Flirt, because the publishers of these games took care not only about the couples in love.
"Tusa", "Partying", "A bottle" – In all these games you need to perform "indecent" tasks, Written on cards that provoke you to small pranks and ugliness.
There is nothing complicated and super indecent in these games, but provocations and Piquant questions Blue the company to red. And what to do with it – everyone will decide for himself.
Activities for adults are also suitable for a collective event, nature recreation.
The rules are the same as the usual activity, only you will have to explain and draw piquant words and phrases. Of course, it is more likely to be a cheerful company of young people than to brighten up a romantic evening to a married couple.
Maps with erotic pictures are also perfect for the company, not only causing the participants the spirit of rivalry, but also introducing a piquant highlight to a cheerful evening.
Here are the main most popular forms of board erotic games. Play and remember: boredom in bed kills love.