Porn story about sex in a supermarket.
I decided to get a job as a seller recently. Initially, this idea did not attract me very much, with my dimensions it is very difficult to spin near a narrow counter, but after a few days I already enjoyed my work. Working as a seller, I met many different people, but most attracted to me by pretty girls and women.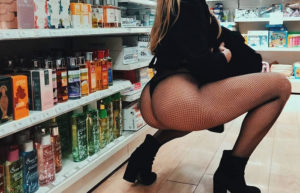 In my field, vision immediately came one woman who entered the store almost every day. She was a little over forty, and she was the owner of lush forms. On the street, I may not have noticed this person, but sometimes a pleasant dialogue with it with it with it, which is why she immediately sunk into my soul. Most often she went alone, but sometimes I saw her with her husband or daughter who studied in the tenth grade. At first, I did not even realize that she was pretty to me, until I caught myself thinking that I have paid a lot of attention to her. I often helped her with the choice of products and even let it go to the warehouse so that she could choose something departed.
Rough sex in the store
That very evening, she came to the store with her husband. Her face was evil and offended, apparently they were in a quarrel. As soon as she went to the cheese department, her husband rang the phone and after a second he said that he urgently needed to go. All this angered her even more, but she tried not to show. At that moment, she seemed especially defenseless to me, which was why very dirty and bad thoughts began to climb into my head, but the most important thing was ahead ..
She stood for a long time, examining the cheeses, but could not decide in any way. At that moment, hope arose inside me and I offered to go to her warehouse to consider the assortment. Her brown eyes here already stared at the door, which led to the warehouse, and behind them all her body moved.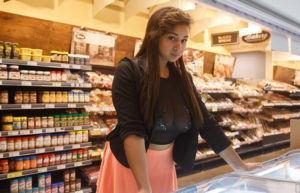 "You go, I'll go now," I shouted, closing the store door and hanging the "overdo" sign. I was determined. As if my hopes were heard, because going into the dark corridor, I heard her thin voice:
-Where is the switch here, because of this darkness I seemed to get into something.
Automatically my hand climbed to the switch, but I stopped in time, I already had an idea.
"Probably, the light bulb burned out," I grabbed her elbow, "but there is a washbasin and a mirror, you can put yourself in order.
Supporting it, I led the woman to the sink, but the crane was faulty, so a stream of water immediately sprayed her, stinging the entire jacket. She panicked began to protrude a jacket and complain about how she will go home in this form. I tried to calm her down and offered a white robe worn by the employees of this store. Not immediately, but still she agreed, but with joy she began to look for her a white robe and specially picked up the one that was a little less, hoping for sex in the back room.
When she changed clothes, she appeared in front of me in a shameful form. The white robe strongly tightened her and barely covered her large ass, and the little buttons seemed to fly away. She herself perfectly understood how lustfully she looks now, so he burst into a puff. And then I realized that it was time to take the first step. With my right hand I grabbed her hand, and with my left I began to massage my chest. From surprise, she lifted slightly, then tried to pull out her hand, but then I pressed it even stronger.
She tried to dodge, but when she turned her back to me, both of my hands tightly squeezed her huge breasts, and her tongue began to caress the skin of her neck. She tried to push me away, but she did it reluctantly, why I continued to act. My palms continued to squeeze her breasts, and she twisted her head to hide shame, but I saw her face in the reflection of the mirror opposite. Soon, and she stumbled upon a reflection of her bashful face, turned her head to the right, and then I caught her lips. I continued to kiss her lips, did not stop my hands and felt that her body was beginning to be covered with tension. This tension made me know that it is time to take the next step.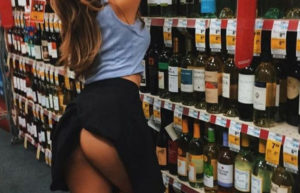 I strongly pulled her robe and small buttons scattered to the sides, opening her body. With my hand, I slightly touched her chest, because of which her huge breasts jumped out of the bra. In parallel with this, I turned her facing her and pushed her to the cutting table. The metal table was slightly stained with meat, so she wrapped me around with her chubby arms and legs, so as not to completely plunge into this dirt. My lips continued to kiss her neck and lips, and I pushed my whole body forward to spread her legs wider. I began to sink below to cover with my kisses her breasts and large swollen nipples. From all this, her back bent even more. Then I lowered my right hand down, on her skirt and began to pull her wet panties slowly.
I heard her moaned loudly and lustfully, which made my desire even stronger. The left hand continued to wrinkle her large breasts, and the second headed for a red -hot vagina – her already clearly attracted sex in the store.
As soon as the index finger touched her labia, she jerked slightly, but then a sweet moan followed. My movements became more assertive and already two fingers entered her hole, massaging its smooth walls. She beat on the table and grabbed her hands at my neck, and I continued to confidently massage my fingers, at the same time biting her papillae. Having freed her breasts, I began to unfasten my pants, freeing my member ready for business. Because of the length of the skirt, she did not see my instrument, but this was useless, because many girls refuse to accept it due to large sizes.
There is no one to go to a supermarket with? 🙂She is waiting for you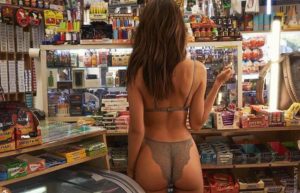 My cock began to slowly move to the treasured gate and the head touched a hot hole. I slowly began to move along her vagina, continuing to massage her huge breasts. But as soon as my head spread her passage a little more, she seemed to return to reality. Apparently my instrument reminded her of the seriousness of her position, so she began to break out. With her chubby hands, she pushed me, bit by the neck and fucked up the table, plunging more and more in the mud, but she did not understand at all that such a reaction excited me even more.
I pushed her to the table so that she fell on him with her back and introduces my dick deeper. At that moment, her pupils expanded and she reconciled with everything that was happening. Her legs spread wider to accept my healthy cock, and then wrapped around my hips. I could no longer restrain myself, so I started to cum in it and immediately felt that she also reached its limit.
When I moved away from her, she was all exhausted on a metal table. The view after sex with the seller was miserable and shabby, resembled a trest of time whore. At some point, I felt sick, but here I realized that I would no longer have another chance ..
Anal sex in the back room
Slowly, I walked around the whole table and turned it over her stomach so that her head hangs a little from him. My member was already ready for the next round, but she tightly squeezed her lips, without taking it. She did not say anything and did not look at me, plunging into her shame, but her stubbornness aroused great aggression in me. By force, I shoved my cock into her mouth and slowly, she began to suck him. Grasping her head, I began to string her mouth on my cock and after a few minutes, her blowjob became more diligent. She held on to my buttocks and I heard her frying. My cock began to tremble and I realized that I would finish now.
"Don't be afraid, I won't end your mouth," I said, and stuck out my cock, ending in the floor.
And then I heard her exhausted voice.
"Thank you …" – I suppose she thought it would already be the end, but she did not even suspect that she was waiting further. I am so far that there was no way back, so I decided to use this woman in full.
Going around the whole table again, I dragged it to the edge of the table and threw it my skirt.
"Please do not, it hurts …" she shouted when I pushed her buttocks and awarded my cock.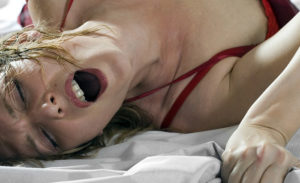 All her prayers and requests passed me, now I was in full swing, like my cock. I pushed them into her hole and enjoyed every moment. She tried to get up and push me away, but I held her hands tightly and pressed her hips to the table. My cock was already deep in her body and I lay down a little on her from behind to make my entry into it even deeper. I rubbed and rubbed, but then made an unexpected sharp jerk so that her hole completely accepted me and then she yelled.
Looking down, I saw her blood flowed. I was worth stopping, because I broke her sphincter, but the desire inside me was already at such a level that I did not realize anything. My cock continued to enter her back hole, and she was flooded with screams and tears. After a while, she already got used to pain and even began to moan. It seemed to me that there was nowhere else to go, but suddenly realized that I could lower it even more.
I stuck my cock out of her ass and looked at him, he was stained with her blood, feces and a few drops of my sperm. Going around the table, I found myself at her head and, grabbing my dick by my neck to her lips. She rested and did not want to open her mouth, but grabbing her stronger, I shoved it into her mouth, forcing him to erase all the dirt that she left on it. She cried and rested, but I started to finish. I wanted her to completely accept everything that my unit spit, so he kept her head tightly at her member. When I released everything, I hit her member several times on her face.
– Please, enough! – crying, she wrapped around my hips and began to lick my eggs. I don't know if she did this to soften me or she began to truly enjoy the story about sex in the store ..