Sex story: What should the slave do in the morning to satisfy the hostess.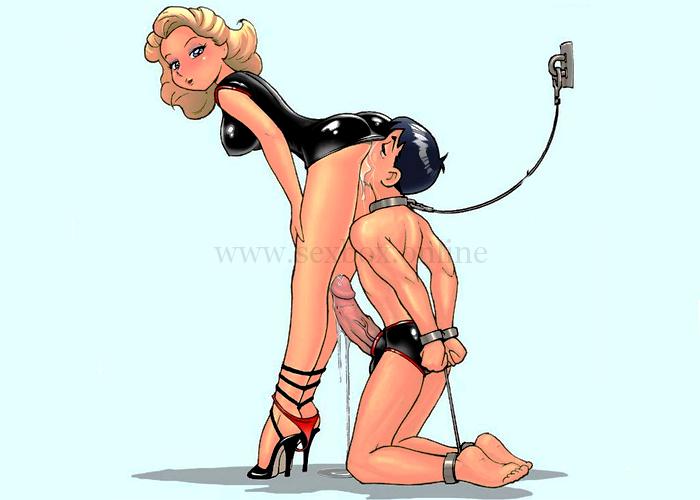 Sex story:
BDSM, submission, slave, mistress, anilingus, golden rain, pissing, kuni, cunnilingus .
Morning routine
– Mmm, yes, yes! – She always groans during orgasm, holding my head right at her pussy. When she finished, she again sank down on the sofa and stroked my head. – You really know how to caress the pussy, my animal.
I smile shyly and tilt my head to quickly kiss the pussy until her hips were closed.
– What can I say, mistress? You inspire me.
She presses her fingers to my collar and pulls it, so I have no choice but to look at her face.
– Now that you agreed to become my pets, I have to explain your daily life, you understand?
– Yes, mistress, I will try to follow all your requests with all my strength.
– Great. – She gets up and bends to tie the leash to my new collar. – Follow me into the bedroom, on all fours. You will never walk next to me in this house. Every time I bring you, you crawl behind me.
– Yes, Mistress. – I felt a lubricant from my penis. She smiles at me.
– Good male. Now, "she continues when we reached the bedroom," you will not sleep in bed with me. Perhaps if you are a very good animal, I change my mind. In the meantime, you will sleep at the foot of my bed on the rug. – She nods on a rug, rolled in the corner of the room.
– On weekdays, you will wake me up at seven in the morning so that I can work with nine. You will crawl under my blanket, and wake me up, licking my pussy. When you come to wake me up, I want to see how a rugged rug lies in the corner, and the coffee is ready in the kitchen. I recommend waking up at six forty -five so that you can complete all these tasks and prepare for the fact that you will lick my pussy before waking me up. You can wake up earlier, at any time up to seven – this is your personal time.
When I wake up, one of the first things that I like, my morning toilet will be. I would like to do this in bed right in your mouth, but since you are a rather inexperienced drunk urine, we can start next to the bed when you are on your knees, and I will either stand on top or sit on the bed. We will do it together, my pet, I'm on top, you are from below.
– Thank you, mistress. – I blush. To express my gratitude, I crawled forward and kissed her toes. She smiles at me.
– This is cute. So, after my morning toilet, I go to the bathroom to brush my teeth. You should have everything ready, that is, my mug, filled with warm water, and toothpaste is already on my toothbrush. When I brush my teeth, you continue to lick my pussy. This is because I like to defecate in the morning before taking a shower, and you must weaken my pussy and anus to accelerate this process.
As I said, after brushing my teeth, I go to the toilet in a big way. When I finish, I will demand that you clean me. You can use toilet paper, or if you feel so perverted, then use your language. You do not have for this coercion so that you do everything that is disgusting or uncomfortable for you, and if someday you decide to lick me, you will be rewarded.
– Yes, mistress, thanks. -I look at my mistress-lover to see how she stares at me, and my heart is filled with love for how thoughtful she is, even in her dominance.
– After my morning toilet, the shower time will come. You will be responsible for my cleanliness. First you will wash my hair, and then my body. I want you to pay special attention to my armpits and boobs. My pussy should wash only when your hands are washed. After you rinse me, I will sit on a towel on the edge of the bathtub and let me lick my pussy and clean ass. This is the only way that my pussy and ass are clean and gentle, you understand me? Soap is too rude and draining. Take this responsibility seriously. – At that moment, she pulls my leash to make sure that I pay attention. I swallow and nod.
– Of course, the mistress, your ideal body deserves only the best!
– That's right, my pet. Now, in addition to cleaning me, you are also responsible for the fact that I will accept the shower. – She smiles at me. – After my shower, you will dip me a towel before wiping them dry. Then we will go for breakfast. When I eat, you will be on your knees under the table. You will constantly keep your lips on my pussy and lick me only when I say about it.
"Yes, mistress, I understand," I muttered.
– Then you will help me prepare for work by dressing me, and if I have to sweat during the day, you will take care of it. After I leave, you will be responsible for cleaning the house and fulfilling my instructions. The rest of the day you can freely perform any actions that you like, but you cannot touch yourself, and you cannot finish without my permission. Understood?
– Yes, Mistress. – She smiled at me.
– A good male, I think that an evening toilet can be extended, isn't it? It seems to me that I need to pee, – she fell silent, pulling her hand slightly. I look at her angrily and sit so that my mouth can reach her pussy and catch the stream of a gentle yellow jet ..
End.
Do not deny yourself secret desires and pleasure. Try Sex toys for BDSM. In sex shops, you can find an intimate-toy that is perfect for you.
The most profitable offers for adults for promotions and at a discount of up to 90% can be viewed in the section Promotions and discounts of sex shops.
Erotic products will certainly bring your intimate life to a new level. Use intimate toys for prelude, stimulation before sex, and if you are interested in trying binding or something else from the BDSM, then look at possible scenarios.