Sex story: the first sex with a mature neighbor ended with a surprise.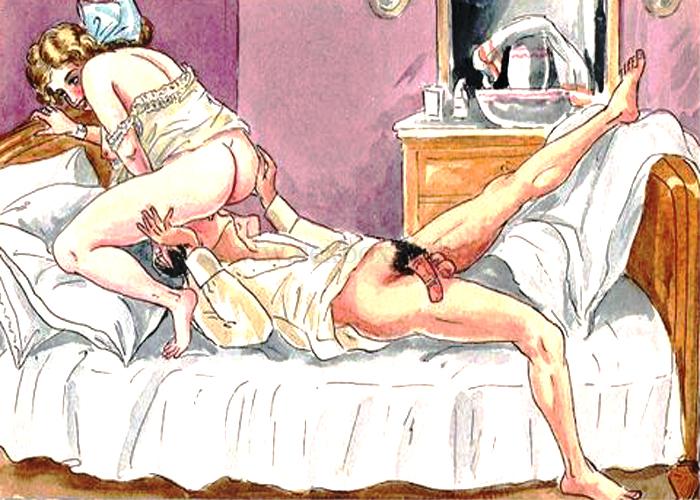 Poris-story:
BDSM, first time, young, mature, binding, sex toys, submission, slave, kuni, cunnilingus.
From the age of 16, I began to look at my neighbors Diana Olegovna Filimonova and her daughter Maria. However, Diana Olegovna liked me much more. She was 42 years old, she looked great, grabbed one glance at her, and my cock became solid, and I think she knew it. She was about 177 cm tall and weighed about 64 kg. She had long legs and a beautiful elastic ass. Her red hair sank several sanimes below her shoulders. She had such bright skin that she seemed even red. And Maria was 19 years old. Two years later, I met them, and then recognized them very well.
She was from our south and loved to wear light cotton dresses. They were so light that they barely hid her huge breasts. I sometimes watched her sitting in the shadow of our yard and reading, and I prayed that her boobs fell out and I jerked off.
When I was 18 years old, my parents first left me alone for a while. They left for Voronezh on Thursday evening and had to return on Monday evening. The rules of my behavior were that I had to go to school and keep the house in order, and no party. And that our neighbor Filimonova will follow me. If they only knew how I wanted her to watch me, this thought did not leave me alone. But in any case, I thought that I would use my free time to catch up in my studies.
I returned from the airport on Thursday at about 19:30 pm. I turned on the TV and opened a book with Algebra. And then the phone rang, it was Diana Olegovna. I thought that she was already checking me, whether I was at home and what was busy. I answered:
– Hello!
– Misha, I know that your parents just left, and I do not want to load and check you, but the water in our toilet will not stop running. You can come to our house and see what you can do about it?
My father taught me a lot how to rectify any situation and I said:
– I will be right back.
I went down to two floors. I was thinking that I would need to consider it more, which would give me fantasies to masteral tonight … If I only knew. I knocked on the door and entered, it was a kind of policy in our house. I shouted:
– Diana Olegovna!
– Come here! – I heard in response.
I have never been to their five -room apartment. But I went into my voice, thinking all the time how rather to stop this water and get out of here. I didn't want Diana Olegovna to notice that my cock began to strain. I went out from around the corner and saw Diana Olegovna in a dressing room. Here's the pancake, I thought. At that moment she turned and smiled.
"Thank you for coming," she said.
"There are no problems, I'll see what I can do," I said, looking almost through her chest. And this immediately made my member hard. I was sure that a member raises my pants. At that moment it seemed to me that I saw her eyes darted down. I asked where the toilet is located. She went to the closed doors, cast a devilish look at me and said:
– In fact, Misha, everything is in order with the toilet, but I had to talk to you. Misha, I saw how you look at me, you watched me.
– What do you mean, Diana Olegovna? – I began to stutter. She answered the question:
– You watched me, you find me attractive? – She walked behind me, but sharply turned me around and grabbed my cock. She whispered in my ear:
– You find me attractive?
"Yes," I said embarrassed. She asked:
-You someday thought about being in the power of a woman?
"Not quite, maybe I didn't even really think," I answered, and at that moment I did everything to attract her sexual attention.
– Okay, why don't you undress, and we can try it!
"Okay," I said. But I could not start undressing.
"So, since you don't undress, let's remember some rules," she said.
– Rules? I asked. She laughed:
– Yes, stupid rules. Ok, you're ready?
"Probably," I answered.
– No! You will answer: yes, Diana or not, Diana! – She almost bark. I was in shock, but answered:
– Yes, Diana. – She smiled and said:
– Okay, you are learning quickly. – She sat on a chair, crossed her legs and said, – Rule number two: you do what I say, or will be punished.
– And what kind of punishment? I asked.
– Why don't you say "yes, Diana", the sorov slave? She shouted. – I will punish you later!
– Yes, Diana. – I said, already doubting if I really want to do it.
-And the last rule-after something happens, you say "thank you".
– Yes, Diana. – After that, she told me to undress. When I took off my clothes, she threw off her robe. Diana was in latex. She came up to me and touched my penis, 14 cm long, which rose directly above the scrotum. She looked down at me, sometimes touching my body. I suddenly realized that this was the first meeting with a woman. She grabbed my ass and squeezed my buttocks.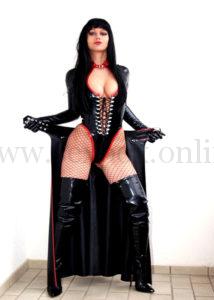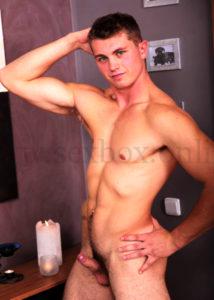 "What a small cock," she whispered. I felt terribly, but I replied:
– Yes, Diana … sorry. – She stood in front of me and hugged me, saying:
– Fool, why are you apologizing?
"You are upset the size of my penis," I said, looking down at him.
"No, I'm fine …" she said. – You need to shave, come with me ..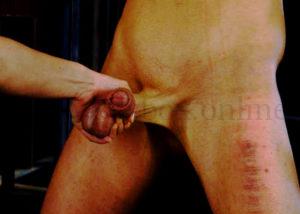 She again grabbed me by the member and dragged me to the bathroom. There she took a hair cutting machine and shaved my pubic hair. Then she took a shaving cream and a razor and shaved my scrotum. It was cool.
– I never thought about it before. – I said.
– That's better?
– Thank you Diana, yes, better! And I can tell me? I asked.
– If it is important, you can say. Just be careful if I don't like it, you will get a fine, "she said.
– Well, I feel great, Diana, – I almost groaned.
"You can say this at any time, Misha," she said, then rose and kissed my forehead.
"Now I need to make sure you are clean, you need to get rid of microbes," she said, and immediately laid a napkin on my scrotum.
– Oh … what the hell ..
– What you said?
"Excuse me … Thank you, Diana," I answered quickly. There was a strong sensation of burning on the scrotum. She poured more fluids on a napkin and continued to wipe where she shaved me.
– Diana!
– Yes, my slave ..
"And how you saturated the napkin, it burns my eggs a little," I asked.
– Did you like it?
– Yes, this is an interesting feeling. – I think that the excitement in my voice was heard.
– OK then. This is wiping with alcohol. Just so that there is no infection.
– Your chest also needs to shave, but we will get to it a little later. It's better, now you will shave constantly and process everything. Do you understand?
"Yes, Diana," I replied, she grabbed my cock again and dragged me into another room. She pulled stronger than before, and put me in the middle of the room.
– Now you need to learn how to imagine yourself. You will learn to stand in front of me with your hands extended by the buttocks, this is understandable? She barked.
– Yes, Diana.
– Well, do it, miserable slave!!! She shouted. From this I was taken aback. Then she grabbed my cock and began to pull me. I stood on tiptoe and sighed.
– You can't finish, you will tell me if you come close to orgasm. Do you understand?
– Yes.
– Yes, who? She shouted.
– I mean "yes, Diana".
– Good slave ..
She got up, kissed me and pushed me back on the bed, after that she sank down on me and continued to kiss me, then took my right hand and laid it on her left chest. I think it was from this that I was going to have sex with Diana in my thoughts. But then she continued to raise my hand over my head. Suddenly I felt something touching my hand, and I heard a click. Before I realized what was happening, she laid the second hand to the first and secured it just as handcuffed. I could not move my hands. She smiled at me and said:
-Now the most interesting begins.
I was a little excited, but then I thought it would be fun. Then she grabbed my legs, spread them in different directions and tied them, she ran a finger along my leg and from the side of the member. She said:
– You remember the rule if I bring you to orgasm?
– Yes, Diana. – She smiled:
– What is the perfect slave. – Then she jerked sharply. I did not enjoy her body so much, and she stopped moving.
– You still can't finish! She barked.
– Please … please, Diana, let me finish.
– I said no"! You still have one fine.
She let my cock go, went to the desktop, took the rope, returned and started it under my back, wrapped it around me, then around the penis right under my head. Then she went beyond the head of the bed, where I could not see her. Suddenly she brought her face to mine and said:
– You were a bad boy, it's time to punish you!
At that moment I was so tense that it seemed as if I was going to finish. Then she stood up over my face. I raised my head and saw Diana's pussy.
– What's happening? I asked. I could see how droplets of liquid shine on her pussy lips. I was nervous, afraid to do anything without her permission at this stage.
"Nothing, it's too late, and I think about rest," she said calmly.
– And I think about returning home so that I can go to school.
She began to laugh:
– Slave, tomorrow you will not go to school. I'll call there, and you will stay where you lie. I have some kind of for you. But I have to ask, you're fine?
I almost could not shout quickly enough:
– Yes, Diana.
– But now your punishment has come. I will sit on your face, you will make me a good tongue, and I will enjoy. And I'm going to look after your member so you do not finish.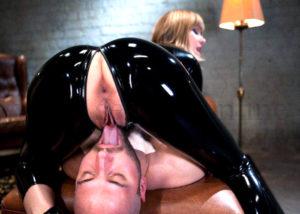 She sank to my lips. I put my tongue between the lips of the pussy as much as I could. She laughed, saying:
– No, fool, wrong. First lick the top, slowly, and then slowly go down to the pussy.
She spent several minutes, explaining to me how not to eat her pussy, but to give pleasure. For a second she fell on me from above. Then she stood up and began to slap with my hand over my cock.
– Continue to work with your tongue, little knocker. – She hit me on a member ten times, and then said: – That you are silent?
– Thank you, Diana. – I answered. I think that she didn't beat me too much, and it bothered me. I continued to lick pussy, already enjoying it, and I think that she loved this. Soon she had an orgasm. Then she began to beat on a member again, a little more painfully – 10 times and she stopped.
– Thanks for the punishment, Diana. – My cock began to hurt a lot. She laughed and breathed very heavily, then she said loudly:
– No, it was not a punishment, I just warmed up my skin. – Then she raised her hand and hit the cock so much that the sound became deafening. I stopped licking and screaming.
"Hey, I didn't tell you to stop licking me? Cried Diana.
– No, Diana.
-That's the same, return your tongue to place!
"Thank you, Dia …" she suddenly hit me on a member, and I bit my tongue. She hit me thirteen times, with the latter, she began to scream from another orgasm. "At least I'm doing something right," I thought. She hit me twice and said:
– You lick sweetly today. – She got up from my face, leaned and said, – good work, thanks, slave.
I did not know what to do after these words, except to say:
– Thank you, Diana.
– I need you to be ready to finish. Like your cock, a miserable slave?
I looked at him. The head was still bright red from beating, but I replied:
– Thank you, good, Diana, – I think she knew it was a lie.
– That's okay. It's time to make a gift out of you. She said in a sadistic tone. Diana untied the rope from my penis, wrapped her around her eggs, then she spent around my penis and again around the eggs. She pulled her as tightly as possible, and wrapped it three times. Then she pulled the rope in the middle of the scrotum, separating the eggs, she wrapped it around each testicle three times, making each turn more dense. She hit me very hard at the eggs.
– Thank you, Diana. I like this feeling when they tie me like that, it makes my eggs hurt, Diana. – She laughed and said:
– It's good that you like it, but she likes the slave.
Finally, I had the courage to ask:
– Diana, and who are you talking about?
"You will see," she answered.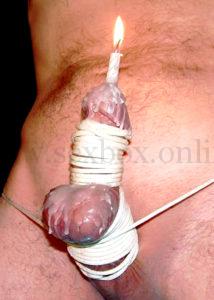 Then she ran a hand around my waist and down her legs. She walked right next to my member, forcing him to stand right even more. She lit a couple of candles and turned off the light. I heard someone's voice from the kitchen. The voice shouted:
– Mom, I'm at home.
– I'm here. – answered Diana. Then I felt the pain in the upper part of the penis, it turned out that she inserted a candle into my cock. Then she took a lighted candle and led it through my cock. She lit a candle from this candle standing in my cock.
– Holy shit! I shouted. The flame has not yet concerned my penis, but it burned me. Diana smiled when her daughter went into the room and stood next to me. Diana said:
– Happy birthday, Mashulya!
End.
Do not deny yourself secret desires and pleasure. Try Sex toys for BDSM. In sex shops, you can find an intimate-toy that is perfect for you.
Erotic products will certainly bring your intimate life to a new level. Use intimate toys for prelude, stimulation before sex, and if you are interested in trying binding or something else from the BDSM, then look at possible scenarios.