Story about sex in the bathroom.
This story was told to me by a friend Masha, with whom we have been friends for a hundred years. Although she is married now, her youth was stormy, and her echoes sound the echoes to this day.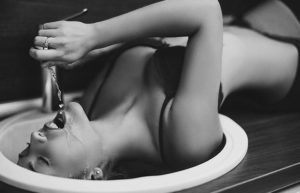 The fact is that the new employee Evgenia was accepted into the company where Masha works. But with Masha they were even more than familiar – long before Masha's marriage, they met. But Zhenya did not want a serious relationship, resting with friends put in first place, and after a few months they parted almost without regrets, since they did not have time to fall in love with each other. In general, so Masha was even delighted to an old acquaintance at work, especially since they had to work on one project. Masha and Zhenya talked like colleagues, without issuing their past relationships in anything, even for coffee at lunch without discussing such topics. But this state of affairs was checked when the head of the department in which they worked, informed them of the upcoming business trip to the neighboring city.
I must say that Masha was not even interested in flirting with Zhenya, because she was happy and completely satisfied with her life. And he, in turn, also respected her personal space and observed the boundaries of working and friendly relations. Therefore, the news of a joint business trip Masha accepted absolutely calmly.
So, the first day of the business trip was a success. Thanks to teamwork, Masha and Zhenya successfully negotiated with partners and, satisfied, went to spend the night in a reserved hotel. Their number was one, but two -room, so Masha was not worried about the temptations. But the bathroom in the room was common, which led to a piquant situation ..
– Sorry! Masha cried when she saw Naked Zhenya lying in the bathroom. – I did not know that you are here.
– Strange, usually the light does not burn in the room if there is no one in it.
– Yes, the same way, usually people close if they accept the bathroom. – She tried to defend herself, from his mockery, and also not to look in his direction.
– Okay, come here. – She heard the splashing of water, and automatically turned to him.
Zhenya held out his hand to her, and his eyes.
– What are you standing? Come on, go.
Sex in a bath with foam
She looked at his face and hands, trying to overcome the sensations that arose in her body. The mind told her to turn around and leave, arguing this with the memories of the past and the awareness of her wife's status. However, the heart and body were of a different opinion, looking at his hands, she felt, his touches, the aroma and warmth of the skin, all this already entered her head, and now treacherously reminded of herself. From the inside, she felt how she began to burn, the desire to be hugged by this person was blazing in her.
Masha held out her hand to him, however, as soon as the tips of their fingers touched, she pulled away.
– My hands … I ate marmalade, they are sticky … – she turned to the sink, however, Zhenya grabbed her hand.
After a second, Masha felt his tongue outlining the patterns on her fingers, periodically biting them. She understood what this was going to, from which she burst into red, she saw Zhenya, and dragged her to him, abruptly dipping into the bathroom, and gently kissing the lips. Not expecting such a silk kiss, the girl softened in his hands.
"Sweet …" said Zhenya, licking her lower lip. – Sometimes it seems to me that I can eat you.
He pressed her to him even more, from which she felt his hard cock touched by her skin. I involuntarily began to rub against him, exciting a man even stronger.
Not noticing how this happened, Masha's panties were on the floor, she was only in his white shirt, which he gave her for socks at the hotel because she forgot the replaceable clothes of the house. The large, excited member now directly touched the red -hot vagina, however, he did not fully enter it, but only teasing, slightly touched him, thereby heating the desire of the girl. Eugene kissed her neck, then went down to her chest. Masha could not suggest any sex with Zhenya, and even more so sex in the bathroom.
– I love these shirts. He said, looking at her chest.
Masha bent her head, and saw how a wet shirt, openly covered her excited nipples, and thin fabric, became almost transparent, under the influence of water.
His left hand continued to caress her hips, and the right was played with swollen nipples. Then she felt his tongue leading the rings around them, replacing it with light biting and pulling. Masha was at the limit, but he was amused by teasing her and watching with what desperate desire she was pressed against him.
The man turned her with his back to himself and, pressing against the wall, continued to lick her vagina. The bathroom was filled with even greater erotic moans, and Masha, who did not know where to get her trembling hands, began to massage her chest, bringing himself to orgasm.
Sex in the bath History
– Zhenya, please, – she could not hold back.
– Say it. – Zhenya already massaged her clitoris with his hands, and after her prayers his movements accelerated.
– No, it's a shame. – Her voice was intermittent.
– Then you have to wait.
He slowly walked his tongue along her back, and a member shaking with impatience, rubbed on her hot skin.
– Good … good … enter me. – Masha decided to give up.
– louder and more convincing. – He began to take his hands more strongly in her weak places.
– Please enter me!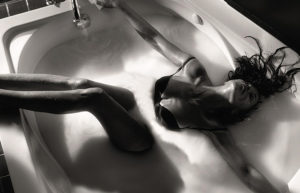 At one point, everything seemed to stop, Zhenya pulled Masha by the chin, and persistently kissed.
– As you wish. – He said in her ear.
Zhenya pressed her to him, and finally the long -awaited member entered the bosom of the girl. Sex in the bathroom The story continued that they began to move faster and faster, clinging closer against the wall. Their languages were intertwined, in a hot, and sometimes painful kiss, then moved away from each other, giving these same sensations, to other parts of the body. And at some point, Zhenya filled her with her desire, from which the girl screamed to wheezing. Sex in the bath with foam was fantastic.
Explosive and limp, they lay in the bathroom, Masha sheltered her head on his chest, and he told her about something, sorting out her dark hair. All this idyll call of the head of the wife, who wanted to know the result of negotiations. Having kissed the girl, he left the bath.
Masha did not remain in the bathroom for long, since Zhenya was not there, and the water began to cool. Sheltering on the bed and trying not to think about my betrayal and sex in the bathroom, I dozed slightly. Returning in twenty minutes, Zhenya was mentally preoccupied with something, but when he saw the girl, he forgot about business. Another wet body shone from the moon, creating the effect of flickering diamonds. Dark hair was strewn with the entire pillow, and like silk ones, they attracted to touch themselves, but there was a small towel that accidentally teased a little more insidious, opening the intimate parts of the body. Not knowing why, but he was not enough for this girl, or rather he could not be saturated with her. Each time, at the sight of her, he had a passionate feeling, he wanted to immediately master it, merge together.
– You've back? – the girl opened her eyes slightly, and said in a hoarse voice.
At this moment, an indescribable desire, again arose inside a man, leaning away that sex in the bathroom that was only thirty minutes ago. His body burned with a bright desire, like the desire of a virgin who saw the first time a naked girl.
Eugene approached her and, covering his whole body with kisses, repeated everything that was in the bathroom.
And if you are alone and dream of repeating everything that was in the story, dating without obligations