Sex games for the bedroom and other places.
Many couples who have been in relations for quite some time talk about a decrease in sexual activity, and sometimes about the loss of interest in each other. To prevent this from happening, it is necessary to introduce the habit of having fun with a variety of sexual games into an intimate relationship. This is exactly what will help always maintain sexual relations in tone and not lose interest in each other.
The summary of the article
Games for undressing
Casket with fantasies
Hide and seek
Erotic bones
Blind seduction
Fulfillment of a dream for everyone
Now manufacturers are ready to offer various options for all kinds of card and board games with sexual subtext. In fact, there are a lot of other interesting options for bed games that the couple can take a note, making a relationship more vivid and saturated.
Games for undressing
Materials: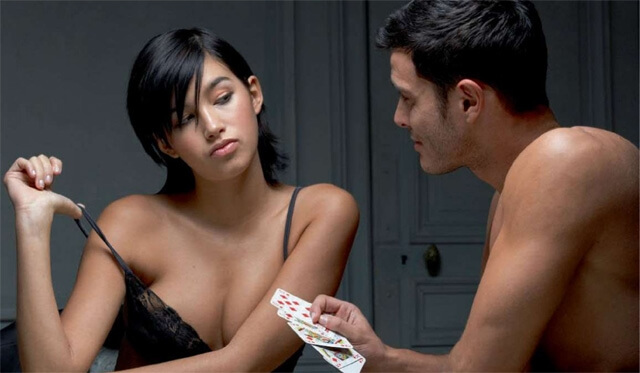 a deck of cards or any other game
Rules of the game
You can come up with a very interesting entertainment if you try to play stripping. Moreover, you can play almost anything, including "monopoly", "screbble" or "howling fool". The loser of the partner must get rid of any one element of clothing. Intellectually advanced couples can even use "chess" as the game, having agreed in advance what will have to be removed when the loss of one or another figure. Of course, such entertainment will eventually end with violent sex.
Casket with fantasies
Materials:
Rules of the game
This game may well become a tradition for a married couple, since it allows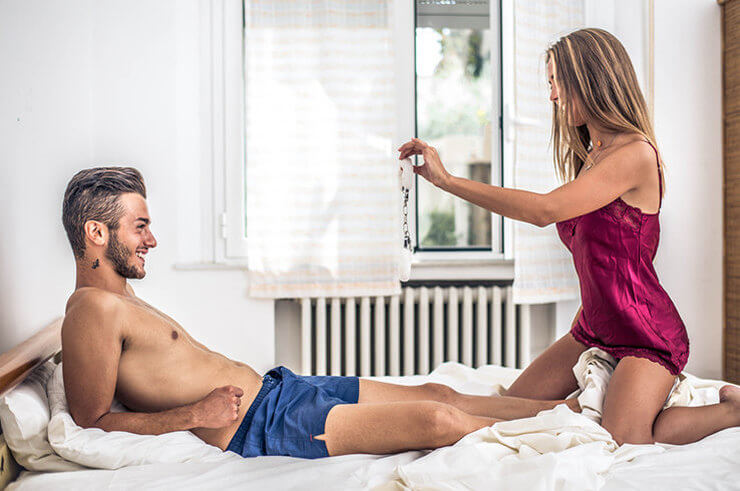 implement almost any sexual fantasies. We are talking about the recruitment of role -playing games, the plots of which will be selected by chance. To begin with, each of the partners receives 10 sheets of paper, on which you need to describe various role -playing games in the most detail. Thus, 20 scenarios are obtained. The leaves are folded into a box, a jar or aquarium, after which they are extracted from there as necessary.
Here you can use your imagination as fully as possible. There are plenty of scenarios of such games – a maid and a hotel client, a doctor and a patient, a nurse and a patient, a guard and a prisoner. The main thing is nothing to tell the partner prematurely. In the effect of surprise, the special charm of the game lies precisely. If desired, one of the partners takes out a sheet with a script, after which the couple starts the game. By describing the script, you can also indicate all personal wishes and preferences. Such a game can bring amazing diversity into a relationship, filling them with incredible acute sensations.
Hide and seek
Materials:
List of sexual desires
the subject that needs to be hidden
Rules of the game
I will immediately have to decide which of the partners hides the subject, and who has to find it. The subject must be hidden along with a note, which describes a sexual remuneration in detail. It is supposed if the partner manages to find a hidden object in a day. However, the game can be stretched for a week or even a month.
Erotic bones
Materials: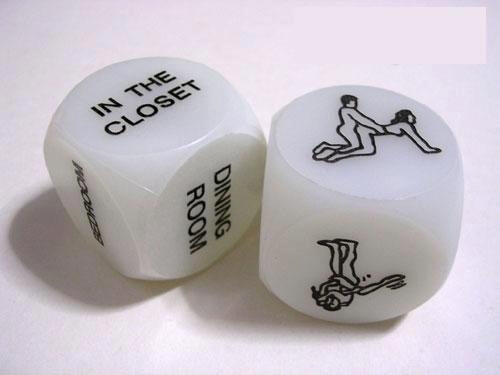 Rules of the game
You need to start with the fact that you come up with any erotic action for each combination of glasses. In order to prevent confusion during the game, it makes sense to write all this on a piece of paper. For example, it can be so – two units – a deep kiss, two sixes – sex, three and five – oral affection.
You can play this game every evening, after which, perhaps, come up with new, even more sophisticated tasks. For the severity of sensations and fun, you can introduce losing situations, for example, a pillow's partner's blow, tickling or something else.
Blind seduction
Materials:
scarf
feathers, ice, silk, skin – all that can help in exciting a partner
Rules of the game
First you will need to do a draw and determine who will seduce whom.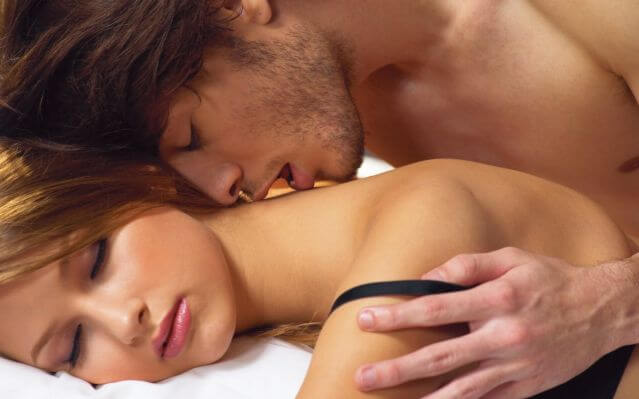 Naturally, the seduced will have to put on a blindfold and relax. At the same time, the seducer can act at his discretion. It will be interesting if a partner with blindfolded eyes will guess what a subject concerns it. You can also experiment with smells. Naturally, sometimes a partner needs to touch the tongue, hand or other parts of the body.
It is interesting to introduce an incentive prize here. For a certain number of guessed items, the seduced can get a sexual prize at will. If the correct answers are not enough, he will have to fulfill the sexual desire of the seducer. Of course, both partners win such fun.
Fulfillment of a dream for everyone
Materials
Rules of the game
This game will not only enjoy each other, but also realize your own dreams. In order for this to become possible, it is necessary to evaluate each type of affection in a certain number of points. For example, it can be 10 points for oral sex or 5 for erotic massage. The most interesting thing is that these points immediately turn into real money, that is, the partner pays pleasure in this way. But before, it is necessary to specifically indicate the goal for which the money is collected. For example, a man can collect for a good bicycle, and a woman on an expensive handbag.
You can do otherwise – simply assess the number of points that must be scored so that the partner gives the desired thing. To argue on this topic incredibly interesting and fun. Naturally, such a game is very stimulating partners and allows them to realize all their fantasies. When setting the agreed point of points, the customer receives his gift, and the other – everything that he only wished in terms of sex.
Similar games should certainly be adopted every pair. Despite the apparent simplicity, these games can give each partner unforgettable orgasms, as well as make relations deep and long.