Ben Wa Balls: Types, Features, Councils on Choice.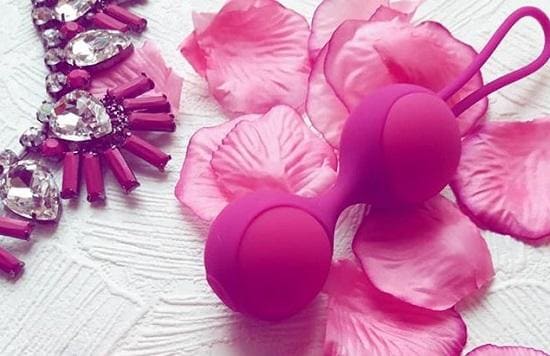 How to strengthen muscle tone in the intimate area, enhance sensitivity and prevent many female diseases? There are special simulators that help to solve these problems. Ben Wa Balls are created for ladies who want to make their body perfect and care about their health. But how to understand the variety of options and buy a device that is definitely suitable?
Ben Wa Balls and people who use them
Ben Wa Balls — This is not just a sex toy, it is a useful simulator that helps strengthen the muscles of the perineum and pelvic bottom. With regular use, the sensitivity is enhanced. And also its use — This is prevention. Doctors recommend starting exercises with simulators from the age of 18. And now who can come in handy:
Girls who want to learn to give a partner maximum pleasure. With the help of Ben Wa Balls, you can learn to do erotic massage vagina. This is able to units, and it takes several months to study, but then men are in great delight.
Women who plan to give birth to a child. Ben Wa Balls improve muscle tone, which helps during childbirth. After regular classes, there are no gaps or cracks, the process of the appearance of the child passes easily and less painfully.
Young mothers after the appearance of children. At this time, muscle tone is weakened, and you can return the former form with classes. The vagina will narrow, will become the same as before.
Ladies who follow their health. Wumbuilding — This is the prevention of urinary incontinence. But it also helps to prevent stagnant phenomena, uterine prolapse and other female ailments. You can use the simulator even at the first signs of the disease, but a consultation of the attending physician is required.
Women who want to get more pleasure from sex. As a result of the use of Ben Wa Balls, a large amount of blood flows to the genitals. This activates sensitive endings, and as a result, even ordinary sex gives more emotions.
Where came the development techniques of vaginal muscles?
The brilliant mistresses were oriental courtesans. They could give an unprecedented pleasure to a man in bed. And their secret was the ability to own their body and in the use of sex toys. From childhood, they were taught the art of love, and the use of vaginal simulators was part of compulsory training. As a result, the muscles have always been in good shape, and they could do a lot of things with them.
Studied by love skills and residents of the Eastern harems. The lovers of the rulers were forced to hold round pebbles with a vagina. And there is also a legend that only those ladies who could keep water were allowed into the chambers of the emperors. They needed to move without losing the liquid that was placed inside.
Maybe about water — This is a legend. But a woman with a trained vagina can actually control her orgasms. And even when immersed inside a thin object, for example, a pencil, it will not be possible to pull it out if it squeezes it with the inner muscles. It is to such a state that it is worth striving.
Vaginal muscle simulators
The simplest training simulator — This is Ben Wa Balls. They have been used for several millennia women and really give results. Modern models are more practical than ancient, but the form has not changed.
There are even more advanced simulators. They allow you to track the correctness of the exercise. These models are developed by scientists, used in the framework of programs «Wumbilding» And «Imp». The price of vaginal devices is much higher, but the use is easier.
Modern simulators can not only help strengthen the crotch, but also give joy. The presence of vibration allows you to experience orgasms with sex toys. And models for wearing can help relax in the most unexpected places, for example, at work or in sports training.
Types Ben Wa Balls in shape
Ben Wa Balls — simple but effective pelvic bottom muscles for women. But there are many options for these devices. They differ in different parameters. Let's look at the shape of these products.
Two balls in a bunch. The most common type of simulator for women. Two balls are connected together with a flexible hitch. On the tip is a comfortable loop or tail, to pull out the simulator, it was not difficult. Balls can have a different shape: round, oval, in the form of a drop or even a flower. Diameter from 2x to 5 cm.
One ball with a tail. You can use the simulator effectively with one ball. It is even easier to use, so to move up and down one part is faster than two. The presence of a tail is necessary for beginners. But in the future you will have to replace the simulator with an integral one to strengthen the load.
Two balls without a hitch. These are models for advanced users. They are already simply without using your hands to pull out the device. They can move balls without connection. Often such a simulator has a small diameter and significant weight. You can use one ball or two, if desired. A beginner with a similar form may not cope.
Hourglass. Two balls may not be combined with a flexible hitch, but hard. Visually, such devices resemble sand clock. Not all exercises can be performed with such a simulator. You can compare it with a single ball. For example, pulling up only one part will not work up, it will move up. But in the first six months of classes, such complex things are not performed, so it is suitable for those who have just begun to strengthen vaginal muscles.
Three or four balls. A large number of balls complicates the actions. This is also an option for those who have mastered simple exercises. A large number of balls — This is interesting, but complexes for classes are more often designed for more classic options. Such a model should be bought as an addition to ordinary balls.
Materials Ben Wa Balls
Ben Wa Balls material does not affect the effectiveness of their use. But the method of leaving and storage depends on it. There are balls that serve 1-2 years, and metal or glass options have been used for decades. The most popular materials for vaginal simulators:
Plastic. The cheapest material. The balls are dense, not too heavy. They have more efficiency with a displaced center of gravity. Suitable for regular training, but it is recommended to leave in the body for no more than 2 hours without a break.
Silicon. The balls are covered only on top with this material, but the base can be from any other material. Silicone – hypoallergenic, safe and practical material. Such simulators inside I can be up to 6 hours. Can only be used with water -based lubricant. Store separately from other sex toys.
Metal. Heavy balls are often made of metal. These are medical steel, aluminum alloys. Differ in a long service, do not break, do not split. The weight is always significant. Suitable for making advanced users. There are rarely with mounts, more often just single balls.
Glass. Glass balls just wash, easy to store. They are made of borosilicate glass, which does not beat, does not break off. Are round, oval, oblong. The surface is checked manually for the absence of sharp protrusions. Can be very beautiful due to inserts inside the colored glass. There are with the hitch, and without. Weight depends on the size.
Rubber. Tpr, tpe just cover the ball. On top it is gentle, soft, but the base is still tough. Used with water lubricant. Wash only with soft detergents. Store separately. The surface is afraid of direct sunlight.
PVC. PVC balls are cast or with a displaced center. The surface is dense, but not as hard as the plastic. There may be interesting protrusions on the surface that massage the body additionally. Tasting, spikes, ribs give pleasure not during training, but with masturbation using Ben Wa Balls.
Stone. The first balls were made of stone. Today you can also buy such options. These are expensive toys made of high -quality stones, for example, from onyx. It is easy to wash, you can use any lubricant. But you should not drop, they can split. When there are cracks on the surface, which happens rarely, it is prohibited to use.
Sets Ben Wa Balls
Which Ben Wa Balls buy? This is a difficult question, since the level of development of vaginal muscles is incomprehensible. It is worth taking heavy or light? Dwell on large or small? There are general recommendations, but you will have to select it individually on your own. And with regular load classes, it will be necessary to increase, which means that the simulator will need a new. You can solve this issue using a set of Ben Wa Balls.
There are two types of sets. The first — These are different sex toys, one of which — balloons. Such things are bought for experiments. All toys are used to enjoy, and balls — as a trial option for starting classes. The price of the set is always lower than the purchase of the same items separately. At the same time, you can understand whether you will really deal with the simulator if there is enough patience.
Set Ben Wa Balls — This is already a thing that is needed only for training. The kit can be 2-3 types of different balls. For example, a single ball with a tail, double balls with a hitch and two balls without fastening. With such a set, you can perform any exercises and gradually increase the level of complexity.
There are other sets. For example, silicone's coupling is one, and balls are with different weights. You can put light options in the mount, and then weight the simulator, changing the balls. In the future, and the coupling can be abandoned. Weight change — it is practical, convenient and effective. Such a simulator will serve for many years with proper care. And you don't have to buy additional things.
The set of Ben Wa Balls from a good manufacturer is more expensive than a single simulator. And sometimes more expensive than bought things separately. What is his plus? In excellent materials. Such sets are created only by well -known companies that do high -quality things. Sometimes it is worth overpaying for a magnificent composition that will not deteriorate in years.
Additional features
Additional functions with vaginal balls are not required. They are effective even without them. But, on the other hand, such features expand the possibilities of application, although they increase the cost of the simulator for vaginal muscles.
Relief. The special texture of Ben Wa Balls massages the walls of the vagina. Sensations are not too bright, but pleasant. This does not affect the effectiveness of training. But it can cause a desire to use the device more often, and this is only beneficial.
Vibration. Ben Wa Balls with vibration is used not only to increase muscle tone, they are also used for masturbation. If you turn them on inside, you can experience a pleasant deep orgasm. If you touch the clitoris with them, there will also be enchanting sensations. This device is suitable for preludes in pairs or for sexual discharge alone. And the exercises in the presence of vibration do more pleasant, even if they do not lead to orgasm.
Dispensed center of gravity. The effectiveness of vaginal simulators increases due to the displacement of the center of gravity. Another, smaller. It rolls inside during movements, creating the effect of light vibration. This enhances the load. Modern designs are made so that the balls are almost soundless. Internal movements are felt, but no noise. Therefore, such simulators can be used even in a public place. Even if you just wear them inside, the muscles will be pulled up.
Remote control. Ben Wa Balls vibration can turn on in different ways. It can be a remote control or remote remote control. With remote control, you can turn on the device at any time. This often turns into a game of partners if the remote control is not in the hands of a woman. Yes, and she herself can enjoy vibration, not looking for a button for turning on in panties.
Water resistance. Not all balls can be immersed in water, especially if they are with vibration. But this is a very convenient function, because it is convenient to train while relaxing in the bathroom or taking a shower. Moisture -resistant models are easy to clean.
Modern models Ben Wa Balls
The most modern models Ben Wa Balls — These are devices connected to a smartphone. They do not just help to train, they become real assistants. There are recommendations for the performance of actions, their number and duration in a special application. There are programs for different levels of training. The application fixes data on the classes, which is important for control.
Separate models of balls can fix the state of the vaginal muscles. They measure the compression force. After some time, for example, a month later, measurements can be repeated and progress can be seen.
You can use Ben Wa Balls with the application for masturbation or to wear. They can vibrate even in the beat of music, which plays in a special player. It is exciting and helps to improve muscle tone.
There is Ben Wa Balls with sterilization. This function eliminates all bacteria, making the use of completely safe and practical.
The cost of modern models is several times higher than the usual Ben Wa Balls. But due to the functionality they are ten times better. After all, training in the form of a game — This is more interesting that ordinary classes that not everyone can decide on.
Ben Wa Balls — best gift
Ben Wa Balls — This is not a sexy toy, but a medical simulator. It is recommended to use gynecologists around the world. You can buy a remedy for strengthening tone in a pharmacy, but the maximum choice is presented in sex shops and in our store.
Ben Wa Balls — This is a good gift for any holiday. It can be bought not only to a beloved woman, but also to a friend, colleague or even relative. Such a thing is really useful to any lady aged 18 to 60 years. This is prevention, pleasure, and training.
Ben Wa Balls price in the world
The price of Ben Wa Balls in the world starts at 300 rubles. These are plastic options without additional functions. They are suitable for those who only want to try for the first time, whether this simulator will be convenient for them.
More convenient options are in the range from 800 to 2000 rubles. This is high -quality material, thoughtful shape and a well -known brand.
Vibration option costs from 1200 rubles, and Ben Wa Balls sets from 2000 rubles. You can find cheaper, but at sales or in moments.
Modern simulators in our store at a price of 5 to 18 thousand rubles.