How to use handcuffs in bed? Experiments with mobility restriction.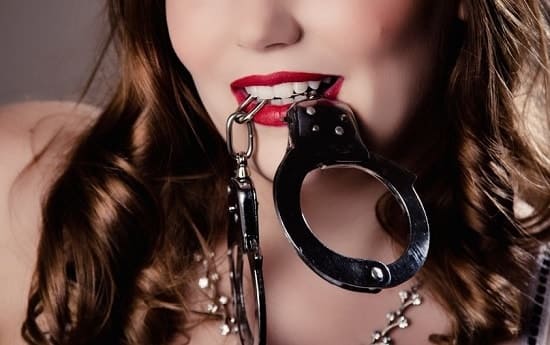 Games with handcuffs is a practice that will add passions to your relationship, give them acuteness and piquancy. And sexual intercourse from the ordinary will turn into a real whirlwind of passions. Even if you do not like the use of BDSM attributes, try fixing sex on yourself. The main thing is to use handcuffs in the bedroom correctly, choose the right poses and script for sex games.
What handcuffs to choose for sex
Handcuff options in our adult store presented a huge number. All of them can be conditionally divided into several groups:
metal handcuffs similar to real;
handcuffs with jewelry, for example, with fur;
edible handcuffs;
flexible handcuffs with an adjustable strap;
handcuffs with spacers for the legs and arms;
silicone shackles;
handcuffs for fixing both arms and legs at the same time.
Such BDSM attributes differ in the method of fixing. They can be closed on the castle, fixed with adhesive tape or buckles. But they can be without fixation at all.
In addition, you can buy the whole set for BDSM games at once. Usually it includes handcuffs, whip, gag for the mouth, mask on the eyes. Anal traffic jams of different diameters, vaginal balls, vibration massager, clips for nipples, stacks and tapes may also be included. You can choose and buy any of these accessories separately if you wish.
When you first buy handcuffs for sex, give preference to universal models, for example, leather cuffs with a regulated size or handcuffs with fur. Such things are suitable for literally everyone and will not leave traces on the skin, even if in a fit of passion you forget about accuracy.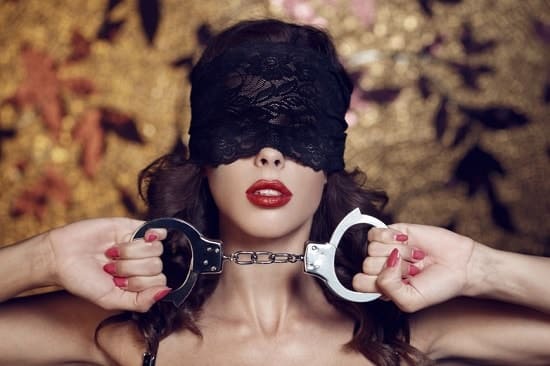 Safety rules when using handcuffs
When using handcuffs for sex or prelude to it, it is necessary to remember the safety rules:
Before any games with handcuffs you need Agree with a partner. It is especially important to discuss the scenario of the upcoming sex game and how it will be stopped. To do this, think in advance a code gesture, for example, 2 knocks in a row, or "stop-word". It is better not to use the standard "no", "do not" and others that express disagreement, because they can be part of your game. It is especially important to think through the "Stop" signal in cases where a gag is used.
Before use, make sure that Handcuffs are clean and permanent. If necessary, many models can be washed with ordinary soap and running water.
Use handcuffs only as intended. Do not try to disrupt or get them out – this also happens when passions are in full swing. Also do not use them to penetrate the vagina or anus. This can lead to genitals damage.
Correctly select a piece of furniture, to which you will attach your partner or partner. If you have a forged bed, feel free to use its back. If the headboard is made of a thin wooden shield, then you should not do this: the bed may break. If you decide to fasten your partner to the battery, then make sure that it hangs tightly on the wall. And in the case when you use furniture for fastening – try to make it overtaken and it could not be overturned. After all, even the largest cabinet can fall if it is not firmly fixed. And this can lead to not only failed sex, but also serious injuries.
Select the poses in which you will have a support. Let it be a bed, floor or wall.
Do not twist your hands in handcuffs during sex. The shackles can unfasten or the brush itself will jump out, and this will violate the script of the game. Also try not to break out of handcuffs much, because this can cause the appearance of a hematon on the wrists.
Handcuffs cannot be warmed up. If they are metal, then they will cause a strong burn. And in the case when the shackles are made of other materials, a sharp change in temperature can make them unusable.
You can't hang on handcuffs. Of course, there are erotic games in which suspension is appropriate. But for this, special mounts and furniture for sex are used. Ordinary handcuffs purchased in an adult store, are not suitable for such actions.
If during sex you experience unbearable discomfort from handcuffs, they injured the skin or other disturbing symptoms appeared, it is worth immediately stopping the game and remove the shackles from the hands. Here, the code word or gesture is just useful. It is also worth stopping such sex games if a fixed partner experiences a strong psychological discomfort, for example, signs of a panic attack or fear have appeared.
How to avoid errors when applying handcuffs
In fact, sexual games with handcuffs require special caution. Here are a few mistakes that people who have little experience in such sex can make:
Lost keys. If you play handcuffs, put them in a prominent place. Otherwise, it will be difficult to find them in the folds of bedding, on the floor or another place where they will fall in the process of passionate game.
Incorrectly selected handcuffs. If you use children's or real shackles in your games, there is a great risk of not getting the desired pleasure. Children's are very fragile, and the real ones cause severe discomfort. Therefore, for games it is better to use only special handcuffs purchased in a sex shop and made of high-quality materials.
Choosing a posture. If the pose is forced and inconvenient, it will be difficult to be in it for a long time and traumatic. For example, men often like to twist a woman "in a bagel" or make her legs strongly spread. Such options will not bring anything but pain if your partner, of course, is not a professional gymnast with magnificent stretching. But even in this case, excessively sharp and forced actions can provoke injury.
Using a plot for role -playing game, which is unpleasant to a partner. Some women do not accept the plot "Rape", since in the past they have such a negative experience. In this case, the plot itself does not cause excitement, but fear and anger.
Indicating the partner what and when to do. "Valuable Tips" can lead to a quarrel and that both partners will not enjoy the game.
Rearing sex with handcuffs on camera, if the second partner does not agree to this.
In addition, handcuffs can catch on hair, body piercing, earrings and other jewelry. And this will bring severe pain, can cause injuries.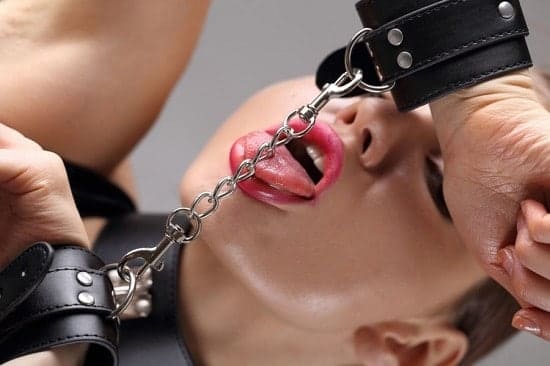 The best poses for games with handcuffs
The correct choice of posts for sex in handcuffs is an important condition for vivid sensations of both partners. Here are some of the most successful options that are suitable for both beginners and real connoisseurs of sex with fixation:
Classical pose. A woman lies on her back, her legs are bent and divorced. Hands are handcuffed to the bed or to any other interior item. If desired, you can fix the partner's legs. The most vivid sensations can be obtained if, in addition to oral caresses and the penetration of the penis, use various toys from a sex shop and a mask on the eyes.
Doggi-Stayl. The woman kneels and elbows. Her hands are handcuffed. Moreover, you can additionally attach them to the bed or not – here you can choose the most suitable option for yourself. Additionally, you can fix your legs. In this position, a man can either kneel and enter the back, or stand on his feet, if the pose of the partner and furniture allows. You can also stand on one knee, bending the other leg. In such poses, both partners can control the pace, depth and intensity of penetration. Also, all three options for doggie are great for anal sex with handcuffs.
Standing position. You can put on handcuffs on a woman in different ways: fasten in front of her or behind. In this case, both partners can select the angle and depth of the penis, the intensity and speed of frictions that suits her. In the process, a woman can rest against the wall for stability. It is also convenient for a man to hold a woman by the hair in this position, caress her breasts and other erogenous zones.
A man from below. The woman is handcuffed to the head of the bed, stands on the knee. The man lies below and caresses her. The woman sits on the penis, makes frictions, and the man directs her, sets the pace and intensity. For convenience, your hands can not be attached to the bed.
Sitting pose in a chair. A woman sits in a chair, handcuffed to his back. Or you can fasten the handcuffs in her back. A man penetrates it and makes frictions. For such a pose, a regular and bar stool is suitable. You can also use the seat in the car. In the latter case, you can attach a woman to the headrest.
Face to face. The woman sits on the table, the man fixes her hands handcuffs behind her back. He enters it, performs frictions, parallel to caress the chest, kissing it and hugging it, stimulating other erogenous zones.
There is another beautiful pose that men and their partners who love the blowjob will really like. The man sits on a chair and spreads his legs. And the woman sits on the floor on her knees, her hands are fixed behind her back. She caresses his cock with the tongue, takes the penis head in her mouth.
Remember, all the described positions can be used differently: a man may be in the place of a constrained woman. You can try both options in your bedroom and decide which one suits you more.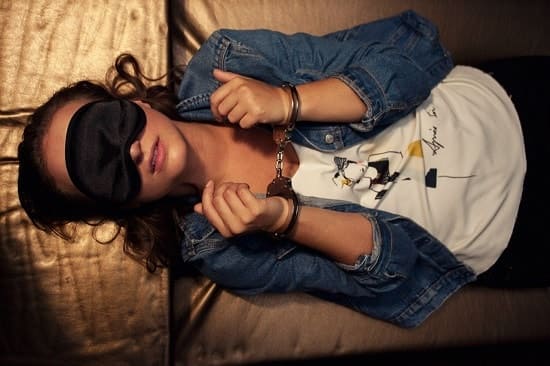 Scenarios for playing handcuffs
How many couples and days a year, there may be so many scenarios of sexual games with handcuffs. There are many options, but we decided to highlight several particularly interesting and easy -to -performance from them:
Games with cold. Fix the hands of a partner or partner handcuffs, fasten them to the back of the bed, if there is such an opportunity. For the maximum effect, use the mask for the eyes – so the sensations will be more acute. Take an ice cube and lead them on the body of a fixed partner. Move slowly, touch erogenous zones and other parts of the body. Instead of an ice cube, you can use chilled cream in a cylinder or ice cream. It is nice to lick such a treat from the body of a partner, and sex becomes a real dessert.
Woman-policeman and criminal. You can try and vice versa, when the partner is active, and it is recorded by handcuffs. Do not forget to buy additional attributes – a policeman costume, rod and glasses.
Madam and slave or master and slave. This is a common scenario that can have a lot of options. During such a game, you can use not only handcuffs, but also another BDSM atributics: gag, mask, stacks and lashes, latex costumes, vibrators.
"Rape". This is an interesting option that many couples may like. It is important to know the measure here and agree on the "Stop Slutts" in advance.
Hostage. This is another ambiguous option that has a lot of lovers around the world. If you agree on everything in advance with a partner, you will get unusual in your brightness and duration of sensation from such a scenario.
You can expand and change any of these options based on your preferences. Of course, it is advisable to think through the main line of the plot of the game in advance, but it is not difficult to make adjustments "during the play". Do not forget to use not only handcuffs, but also beautiful erotic linen. You can even pamper each other with original role -playing costumes. If you do not have such an opportunity, use only accessories characteristic of your characters. For example, a stethoscope for a doctor or indecently a short dress for a maid.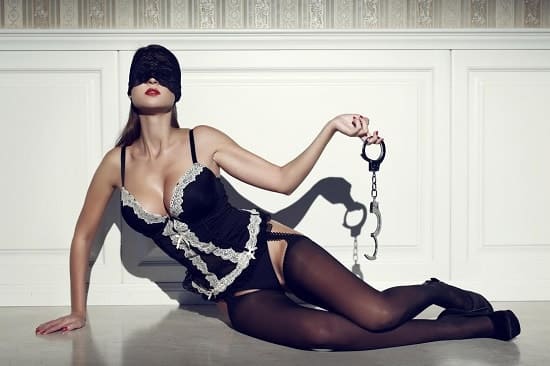 Questions about the use of handcuffs in sex
If you are lost, do not know what to come up with in order for intimacy to go in an original way, watch erotic films on this topic. Most likely, you can find in them a suitable plot that will change for yourself. The main thing is to stock up on the necessary accessories in an adult store. And think everything over in advance. For example, do not forget to buy wet wipes and a suitable lubricant. You can supplement your set with a vibrator or anal traffic jam, as well as many other options for toys and accessories for sex. You can see all of them in the catalog of our store.Before any experiments in sex, you must definitely talk to a partner. Otherwise, there is a great risk that you both will remain disappointed from such games. This is especially true for sex in which the restriction of the freedom of the arms or legs, affecting the anus, causing pain and discomfort occurs. Therefore, you should not make surprises if you are not sure that your partner will like them. And you can offer the use of handcuffs in the form of a joke. You can also watch an erotic film together in which this accessory is actively used, and ask the opinion of the spouse.In your case, you will have to abandon metal handcuffs. It is better to buy models in which all the details are soft, for example, silicone or furry. Handcuffs with a wide cuff may also be suitable – leather or from other materials. Such options are well regulated, and their load spreads to the entire area of the cuff. So, the risk of getting bruises is minimal.