7 BDSM tips for beginners.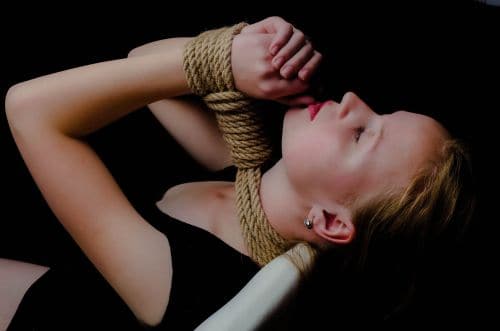 The first time we decided to try something from the BDSM? But you worry that it will be too strange, very painful or expensive? In fact, everything is simpler than it seems. There are 7 tips on how to start and not be scared.
Use what is at hand
Equipment for the bondage should not be too complicated. For example, ordinary scarf and stockings, which you have at home can become excellent limiters and blindfolds.
The first time you try fixation, it is better that the partner lay down before you begin to bind him, and not do it standing, even for a short time. When forming limiters, use The rule of two fingers, to make sure that the ropes, or their replacement, are not too tight.
Experiment with a sensual game
Bondage also helps to enhance the effect of the game with sensations. Try alternating dripping wax with a massage candle, which melts at low temperature, and ice on the skin of your partner.
..Nipples clamps can also be very interesting, because the degree of compression can be adjusted.Blindfold – Another way to enhance the sensation of touch during the game. They force your partner to focus on other feelings, except vision, such as hearing and smell, which can be very exciting. While leather masks are impressive, sleep masks and scarves, scarves can be more affordable, and work is also good.
Start with anal sex
Anal caresses as strange as BDSM. They scare and attract at the same time. In fact, a lot of nerve endings are concentrated in the anus. You can use special sex toys, for example, anal traffic jams, balls, stimulants, prostate massagers. With their help, you can diversify preliminary caresses and prepare for penetrating anal sex. Some devices look very stylish and exciting.
Spread a partner
Before buying special flogging accessories, such as whips, stacks, phoggers, slapping, try to spark the partner with the most affordable tool – with your hand. After, if you really want to purchase a real tool, start with slap, which has one side leather and the other is made of softer material. For genitals, it is recommended to use thin wooden blades for light pat. Wide blades made of wood and silicone have more sharpness, sensations from the blow more intense.
Stacks – Great guns for both beginners and experienced users. It is very easy to strike with leather lashes, but the sensations from the blow can be sufficiently intense.Attention. Regardless of what you use, strokes must be applied on soft tissues – buttocks, hips to avoid damage to internal organs.
Do not spend money on buying expensive toys
What is better to buy – handmade toys or store? It is up to you to decide. Tools that are sold in sex shops no worse than those made to order. But they may not be so high -quality, it all depends on the materials from which they are made. You can also get more pleasure with more expensive and carefully worked out accessories. But better do not spend a lot of money for equipment for BDSM, until you have confidence that you will use it for a long time.
Look for BDSM community on the Internet
Those who wish to be dominants can also try to play the role of the submissive in order to understand how it is to be subordinate. BDSM game is a little It looks like a dance: one partner leads, and the other follows. It may also be useful for beginners to seek advice to more experienced mentors and chat on thematic forums or communities.
Brain-the most powerful sex toy
When it comes to BDSM and any other types of sexual games, there is something more important than the presence of the right toys and accessories. Sex is not only the body, but also the head! Communication It is also a key point, especially when it comes to perversions. Talk to each other, find out what turns you on or not, and get down to business.